Aptis at a glance
A product designed for electro-mobility
Premium passenger experience inspired by trams (fully accessible & manoeuvrable)
Designed for low total cost of ownership
Zero carbon emissions
The result of Alstom's expertise in electric traction and rolling stock, Aptis is a game-changing electric bus offering clean, smooth and cost-effective transport.
Designed from the start for electro-mobility
Aptis is not just another "electrified" vehicle, but was conceived from the outset as a new vehicle designed to meet the upcoming challenges of urban mobility, resulting from the long-standing knowledge of Alstom in electric vehicles. This expertise is illustrated by roof-mounted electric batteries which can be recharged overnight in the depot, offering a full day of autonomy in operation. They can also be recharged in the space of 5 minutes at the end of each line, or even opportunistically at bus stops using Alstom's proven SRS fast charging technology.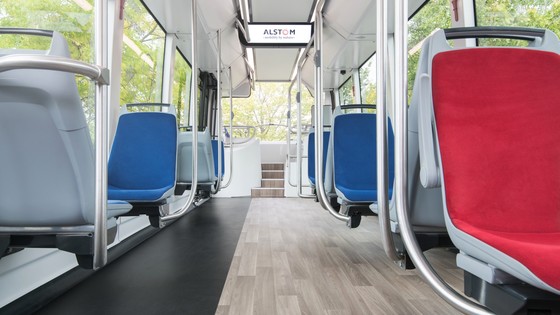 Enhanced premium passengers experience
Offering a low-floor throughout the entire length of the vehicle (a first for buses), Aptis features all of the accessibility assets of a tram, including up to three double doors on both sides for easy boarding and alighting. Its modular interior arrangement allows adjustments to requirements over time. Passengers benefit from a panoramic view thanks to 20% more glass surfaces area than on a conventional bus, and Aptis's electric traction virtually eliminates noise and vibration in the vehicle.
Designed for cities
One of Aptis's unique features is its four steerable wheels, compared to two on a normal bus. This makes it more manoeuvrable: it takes up 25% less space on street curves and requires less free space before a bus stop, leaving two car lengths more for street parking, for example. And as it can align perfectly with the pavement edge, passengers with reduced mobility, pushchairs and wheelchairs have easier access.
Aptis is also available to transport authorities in a range of ownership options, extending as far as a comprehensive solution combining vehicles, maintenance and energy supply for optimised integration into any city network.
Attentive to costs
Everything in Aptis is designed with total cost of ownership in mind. Based on the solidity of Alstom's Citadis trams, vehicles have a scheduled life span of 20 years. They benefit from reduced maintenance costs, due to the easily-accessible power system on the roof and only four tyres instead of six on conventional buses. Overall, Aptis costs about the same to own as a diesel bus, but it has a longer life span and offers a cleaner, more modern and accessible approach.