Avelia Euroduplex at a glance
Highest capacity high-speed train
Reduced energy consumption
Passenger comfort and fluidity
A member of the Avelia high and very high-speed train range, Avelia Euroduplex is the only double decker in the world running above 300 km/h.
Avelia range
Higher ridership
In an age where high and very high-speed rail travel has become the norm in many countries, Avelia Euroduplex constitutes the natural solution for the transportation of more passengers at high speeds and lower cost. Thanks to its two floors and 15 passenger rooms, an 8-car (200 m) Avelia Euroduplex holds up to 40% more passengers than a single-deck train of equivalent length and similar gauge. Used in two-unit formation, an Avelia Euroduplex can carry up to 1,268 passengers at 320km/h!
Ambiance and convenience
Passenger rooms can be adapted to provide different ambiances on board. Both decks have toilets as well as floor-level luggage racks within the sight of passengers. The continuous upper deck offers fluid and step-free circulation, access to the restaurant car, and panoramic view for passengers. With bogies placed between cars and not beneath passenger seating, the ride is quieter for customers, with less vibration.
In addition, wide entry doors and low floor access a better passenger flow.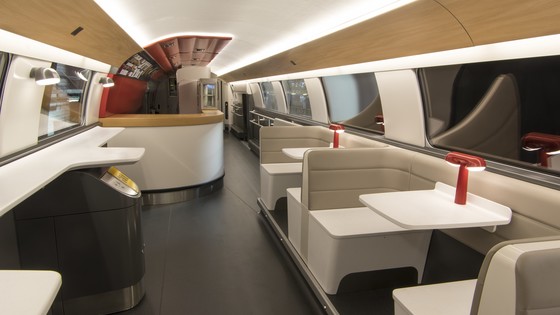 Lower cost per passenger
With the articulated architecture of Avelia Euroduplex requiring fewer bogies, the train weighs less. In fact, an empty Avelia Euroduplex is lighter than a fully laden single-deck train with equivalent comfort and service! Energy consumption is thus 6% lower per train, and 20% lower per seat than a non-articulated single deck train. An undeniable benefit in terms of operating costs!
International by nature
Avelia Euroduplex is TSI (technical specifications for interoperability) certified, designed to run across borders, and currently operates in France, Germany, Switzerland, Spain and Luxembourg. It has embedded ERTMS signalling technology and can work on four different traction power voltages.
≈1,000
Avelia trains in service worldwide
200+
Avelia double-deckers in service since 1996
5
the number of countries where the Avelia Euroduplex is operating, crossing 5 borders
320
km/h of commercial speed (tested at 350 km/h)