Optimet OrbanMap at a glance
A smart, innovative information service
Improved journey planning
Social media-fed city guide
A dynamic vision of the city
Combining real-time travel data and social media content, Optimet OrbanMap fulfils new demands from passengers and inhabitants for extensive information on their surroundings, to get the most out of their city.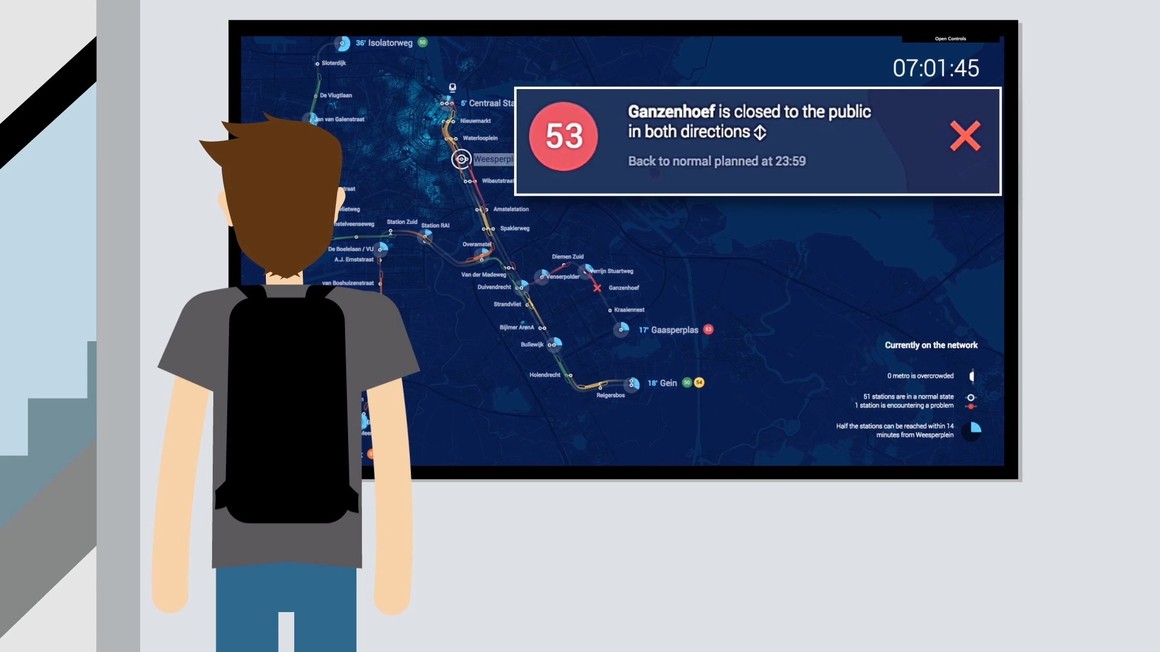 Optimet OrbanMap
Improved passenger choice
Designed for metro networks, the system's in-station display screens map out the urban transport network and indicate journey times from the current station to other network stops. The screens also display the live locations of trains on the line together with their passenger load, offering customers the means to decide whether to take the next train or wait for the following one. This means that the passengers are in full control of their movements and can anticipate and improve their travelling conditions.
Enhancing the city experience
Optimet OrbanMap takes city life a step further by leveraging social media activity. In addition to providing pure transport information, it sources social network posts relating to facilities located near to the station such as leisure venues, eating and drinking outlets, special events and entertainment. This offers station visitors a more developed view of their environment and helps them to draw maximal benefit from their surroundings.
Leveraging technology
Designed by Metrolab, Optimet OrbanMap draws on two sources of technology to deliver its enhanced information offering. Regarding travel, it uses data from automatic train supervision (ATS) systems such as timetables, train positions, passenger loads (see also Optimet real-time train occupancy) and alerts. On the social media side, content is aggregated and moderated centrally before being dispatched to individual stations for display on their local screens.
Operator benefits
With Optimet OrbanMap, station and network operators offer added-value services to passengers and inhabitants, at a time when instantaneous information on web-based devices is becoming the norm. Consequently, the transport authority and operator play a greater role in enhancing the appeal of the city to residents and visitors alike.