Optimet real-time train occupancy at a glance
Intuitive, text-free information
Better passenger distribution in trains
Enhanced travelling conditions
Reduce dwell times
A more attractive metro system
The Optimet real-time train occupancy solution, designed by Metrolab, helps to redistribute platform and train occupation thanks to an intuitive and universal visual aid, enabling smoother operations.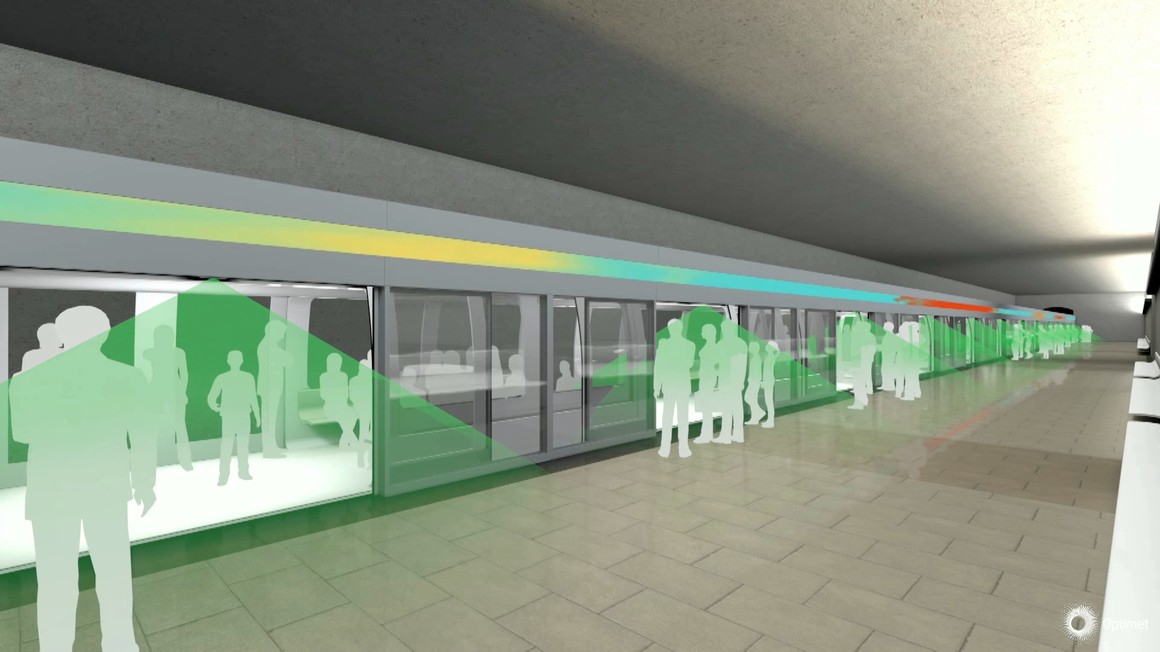 Optimet Real-Time Train Occupancy
Influencing the passenger
Passenger trains and station platforms are often unequally occupied, resulting in difficult passenger exchange and poor travelling conditions for some passengers. Optimet real-time train occupancy influences passengers' behaviour, encouraging them to gather around coloured zones which indicate the best level of comfort. As a result, on-board comfort is enhanced, passenger exchange time is shortened and operational reliability is improved. Its LED panels mounted above the platform screen doors - and along the entire platform - display colour codes representing the passenger occupancy levels in each part of the approaching train. These colours cover a full spectrum, offering a refined analysis of passenger load. 
Digital technology
When a train is in the station and the doors open, sensors located at each platform screen door count the number of people entering and leaving the train. When the doors close, this data is processed and converted into a comfort level that is sent to the following station to be displayed on the screen.
Operational efficiency
As passengers will naturally tend to move towards coloured zones that indicate the best level of comfort, the load becomes more evenly distributed on the train. Furthermore, because there are fewer doors with substantial (and lengthy) passenger exchanges, platform dwell times can be reduced, resulting in more efficient transport operations. The operator can furthermore gain valuable insight from passenger habits and adjust their service offer accordingly. Data is permanently recorded in order to improve the accuracy of algorithms over time not only based on physical counting but also on people's habits.
30%
of waiting passengers influenced (test results)
10%
reduction in dwell time