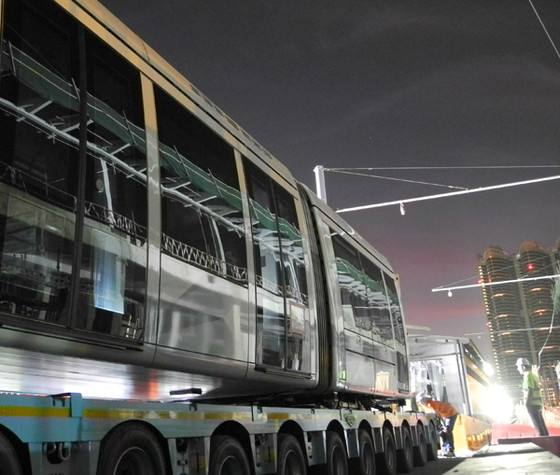 Alstom delivers the first Gulf region tramway to Dubai
Press Contacts
Visit our media section and follow the link "Press contacts"
Alstom has delivered the first of the 11 Citadis trams to the Roads and Transport Authority (RTA) of Dubai (UAE). These trams will be in service on the Al Sufouh Road, the first tram line in the Gulf region. The new 10-km line is due to open by the end of 2014. It includes 11 air-conditioned stations and connects destinations such as the Burj Al Arab Hotel area, Dubai Media City, the Marina and the metro. In a second project phase, the line is planned to be extended up to 14.7 km.
Alstom is responsible for the design, integration and supply of this turnkey tramway project, which includes: the supply of Citadis trams, track laying, signalling (using Alstoms Urbalis CBTC1), communications systems, integrated operation control centre, platform screen doors and ticketing system. Alstom will also be responsible for the maintenance of the transport system for a period of 13 years2.
Mattar Al Tayer, the Chairman of the Board and Executive Director of RTA, said "Now that Alstom has conducted the initial systems tests on the tram in their facilities in France, we are starting technical tests on the depot's rails and test runs on the line. All operational aspects will be continuously assessed until the line opens.
The Dubai Citadis tram is 44 metres long and can carry up to 408 passengers in Gold, Silver, and Women & Children classes. It offers high-end comfort, infotainment solutions, enhanced communications and security systems both within the stations and on-board the trams. The main features of the trams fine design are its diamond-shaped front nose, and its external livery which evokes the sand dunes of the Emirate. Dubais tram is the first tram to run exclusively on APS3 and also the first with tropicalised next-generation equipment adapted to the extreme weather conditions of the Gulf, including temperatures above 50° C, high humidity and sand.
The trams for the city of Dubai are designed and assembled at Alstoms La Rochelle plant in France.
Press contacts
Virginie Hourdin, Claire Biau (Alstom) Tel.: +33 1 41 49 21 36 / 39 95
virginie.hourdin-bremond@chq.alstom.com ; claire.biau@alstom.com
Linda Huguet (Alstom Transport) Tel.: + 33 1 57 06 10 42
linda.huguet@transport.alstom.com
Majed Al Majed (Alstom Transport UAE) Tel.: +971 4 292 98 48
majed.almajed@crn.alstom.com
1 Communications-based train control
2 Part of a different contract awarded to Alstom in 2012
3 Alimentation Par le Sol: Ground-level power supply system
20131217---Tramway_Citadis_Dubai_2.jpg