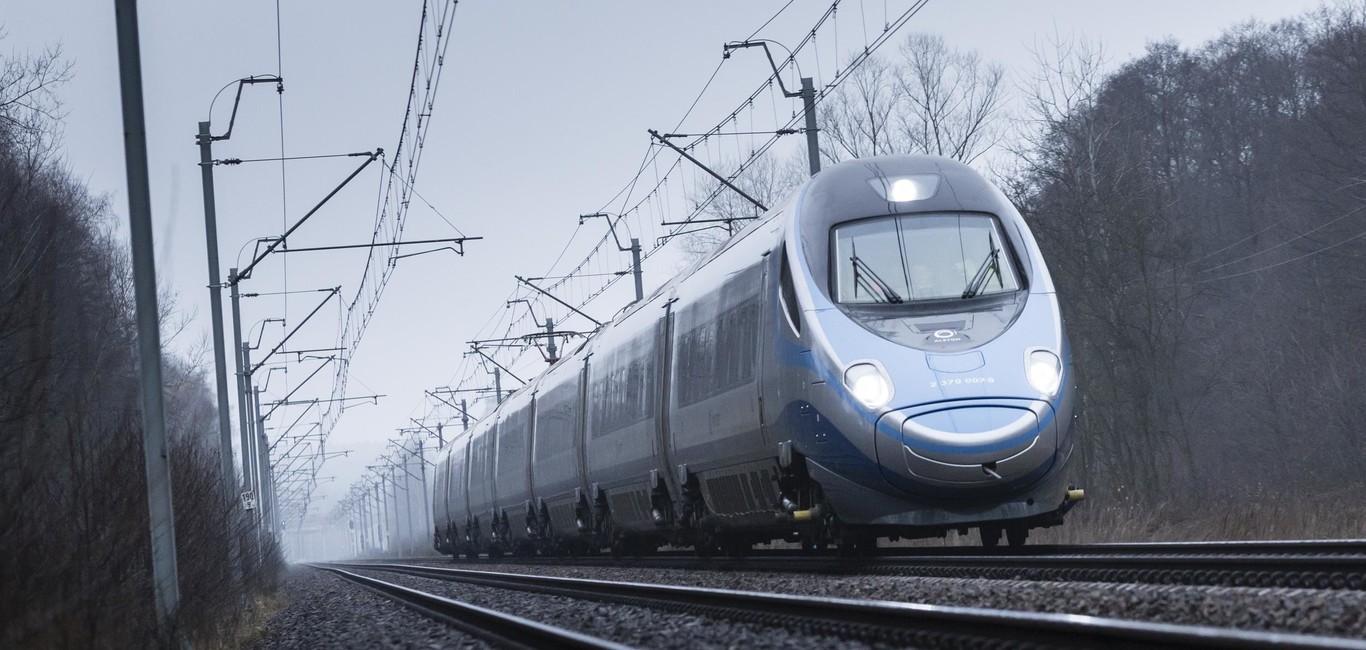 Contact Alstom in Poland
ul. Emilii Plater 53
00-113 Warszawa
Phone: + 48 22 540 66 00
E-Mail
Global leader in sustainable and intelligent mobility
Alstom has been present in Poland for more than 25 years and is the largest manufacturer in country's railway industry. Company currently employs more than 4,000 people in 12 Polish sites. Alstom builds on significant industrial heritage of company's production plants: 180 years of Pafawag in Wrocław, 150 years Konstal in Chorzów and 100 years of ZWUS in Katowice.
Alstom's complete product portfolio includes high-speed trains, metros, monorail, trams, integrated systems, customised services, infrastructure, signalling and digital mobility solutions
Alstom develops and markets mobility solutions that provide foundations for the future of sustainable transportation and introduced  world's first hydrogen train - Coradia iLint – to passenger operations. Alstom' headquarters is based in France, company is now present in 70 countries and employs 70,000 people. There are more than 150,000 Alstom vehicles in passenger operations worldwide.
Major achievements

Alstom products and solutions in passenger service in Poland:

20 high-speed Pendolino trains,

80 TRAXX locomotives,

TWINDEXX double-deck trains,

modern low-floor FLEXITY streetcars,

25% of Warsaw metro fleet.

Most of the main railway lines in Poland, as well as both lines of Warsaw metro and 8 Polish cities use signalling designed and produced by Alstom.

Company has also implemented first European Railways Traffic Management System ERTMS Level 2 in Poland.
25
years of presence in transportation industry in Poland
20
Pendolino trains and 80 TRAXX locomotives in service
Alstom Konstal S.A.

ALSTOM KONSTAL S.A. with headquarters in Chorzów, ul. Metalowców 9, 41-500 Chorzów, entered into the register of entrepreneurs kept by the District Court Katowice-Wschód in Katowice, VIII Commercial Department of the National Court Register under the number KRS 0000034262, REGON: 272337680, NIP: 6270011583, with the share capital of 222 190 000, PLN 00, paid in the amount of PLN 208,590,000.00

Supervisory Board:
Xavier Dulac
Alexey Grekov
Marco Michel
David Laurent

Management Board:
Sławomir Nalewajka- President of the Board
Artur Fryczkowski- Vice-President of the Board
Krzysztof Struzik- Board Member
Sławomir Cyza- Board Member
Beata Rusinowicz- Board Member
Paweł Siwek- Board Member
Michał Guzek- Board Member

Proxy:
Kamil Tarko
Małgorzata Przyborska
Monika Kościelna
Leszek Kurzok
Agata Wysogrocka-Korczyńska

Type of proxy: 
Joint proxy
Investor's communications
To access financial documentation and resolutions for Alstom Konstal
click here
Metros for Europe

Metropolis for Warsaw (Poland) - 18 six-car trainsets ; Metropolis for Budapest (Hungary) – 22 five-car trainsets for line 2 and 15 four-car trains for line 4 ; Metropolis for Amsterdam (The Netherlands) – 28 six-car trainsets for lines 5 & 6.

Trams for Europe

Warsaw trams and 37 Citadis trams for Istanbul (Turkey). Project completed in 2011.
Riyadh metro

Metropolis for Riyadh (Saudi Arabia) – 69 two-car trainsets for line 4 (yellow), 5 (green), 6 (purple). Duration: 2013-2018

Expo 2020 metro

Metropolis for Dubai (UAE) – 50 five-car trainsets for EXPO 2020. Completion: December 2019.

New Coradia Stream for the Netherlands

Coradia regional trains for NS in the Netherlands – 79 trains in 2 configurations: 8 cars (30 trains) and 5 cars (49 trains). Completion: October 2022.

Regional trains for Germany

Coradia Lint for Deutsche Bahn and private operators in Germany. Over 570 car body- shells painted and pre-fitted.
Working at Alstom Poland
People, at the heart of our business
Development and career management of our people is key for the success and growth of Alstom. Setting trends in innovative and environmentally-friendly technologies, Alstom knows that the employee empowerment is crucial to its success and continues to strengthen its culture by promoting diversity and entrepreneurial spirit with a fundamental commitment to integrity and high ethical business standards and practice.