Depot equipment at a glance
Supported by unrivalled rolling stock expertise
Closely adapted to project needs
Focused on life cycle cost
Optimising maintenance processes and costs is a key factor in the life cycle cost of a tram, metro or main line system. Alstom's proven depot equipment approach provides maintainers and clients with the best solutions at the optimum cost, taking account the whole project's life.
Priority on the project
With long history and expertise in the design, manufacture and maintenance of railway rolling stock and infrastructure, Alstom is ideally skilled to specify and supply vehicles, machines and infrastructure maintenance equipment. Aided by our permanent relations with maintenance teams on the ground, we design safe, efficient solutions that are the best for the project. Covering a scope of more than 250 items of machinery and equipment, we ensure that depot projects meet three criteria: fulfilling rolling stock and infrastructure maintenance needs, catering to the client's requirements, and keeping investment and maintenance costs under control.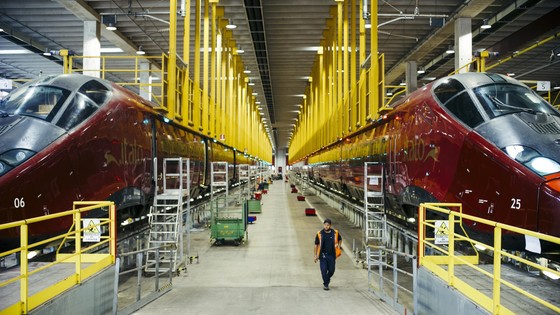 Cost-effective by nature
As in all our areas of expertise, we strongly believe that controlling life cycle costs is paramount to the viability of a railway system. Consequently, our approach is not only to specify depot equipment, but also to challenge existing maintenance practices so that the final cost is cheaper for the client and maintenance is more efficient and therefore provided at a lower cost. Thus, we are able to recommend to remove certain features which are superfluous to requirements, or optimising workloads through new maintenance schedules.
Examples:
-    Special vehicles developed for track defect monitoring,
-    Re-engineering of bogie workshop machines, 
-   Innovative and intelligent depot equipment: digitalization process for machines and vehicles.
Our philosophy is to provide just-sufficient equipment to meet the specific needs of the project.
Continuous adaptation
None of this expertise would be valid without continuous improvement through return of experience. We monitor and solve operational and maintenance issues in close cooperation with maintainers, always in a perspective of smooth long-term operations and controlled life cycle cost. We are also active in market intelligence, checking out new technologies and updating our technical knowledge. 
Our R&D teams are constantly studying new features and solutions to integrate into our recommendations, regarding topics as water consumption reduction, spare parts decrease, etc. 
Our clients can be assured of the most up-to-date and revised techniques and technology for their railway assets.
30+
depots supplied worldwide