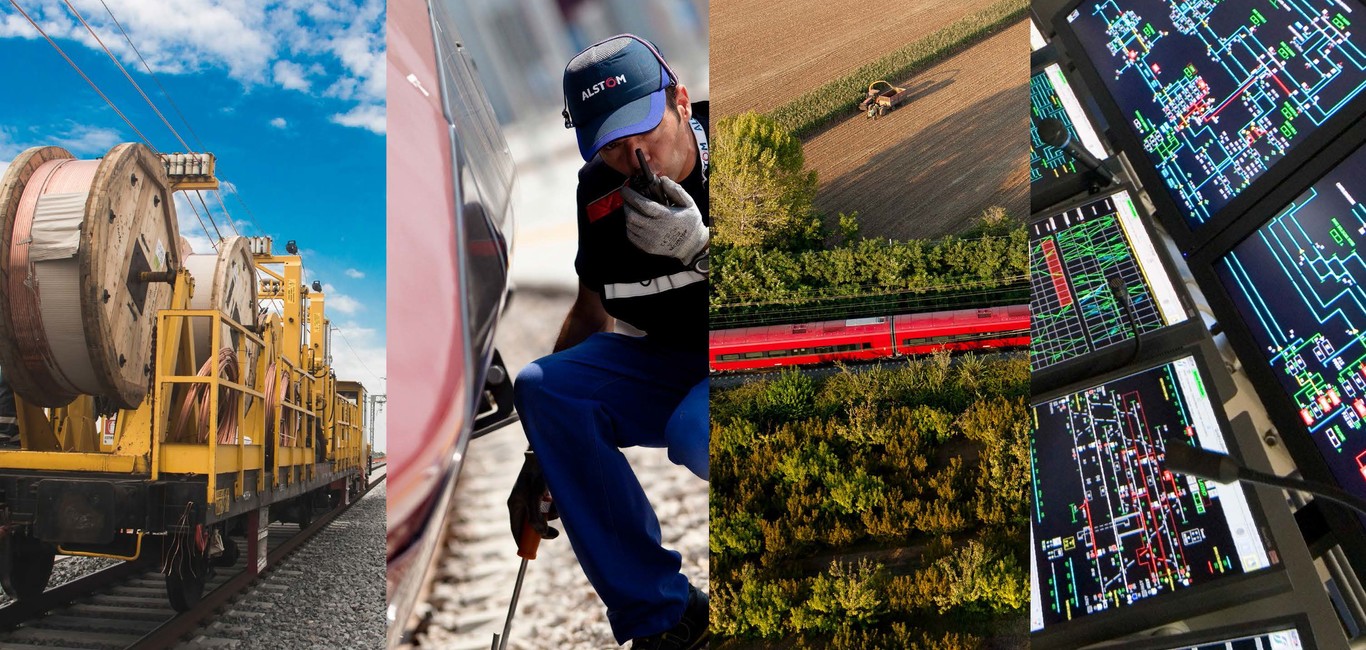 Contact Alstom in Italy
Head Office:
Via Nomentana 41
Roma (RM)
00161
+39 06 83531801

Regional offices
Bari - Phone: 0039 (0)80 5380811
Lecco – 0039 (0)341 35 87 11
Savigliano – 0039 (0)172 718 111
Bologna – 0039 (0)51 416311
Nola – 0039 (0)8131190160
Firenze - 0039 (0)55 42 341

A leading player in Italian rail industry
Deeply rooted in the Italian railway tradition, Alstom in Italy has been manufacturing trains for 160 years, traction systems for 60 years and signalling equipment for 90 years.
Today, with 8 sites, 31 depots throughout Italy and 2,650 employees, Alstom is a strong local employer recognized as one of the leaders on the Italian market. 
Alstom in Italy can boast two centres of excellence: Savigliano (CN) in high-speed trains Pendolino and based on tilting technology and in regional trains – Bologna in railway signalling equipment and traction systems.
Alstom has made considerable investments in its industrial base in Italy. Alstom's site in Savigliano (CN) is an example of Factory 4.0, with a cutting-edge 3D virtual reality room enabling our engineers to design trains for easier maintainability.
Major achievements
Over 500 Pendolino trains built in Italy and sold in 13 countries, including UK, Russia, Finland and China.
More than 400 regional trains for public, private and regional operators.
ERTMS level 2 system for the Italian high-speed lines, the first in Europe to be equipped with the new interoperable standard.
CSR
Over the years, Alstom Italia has given rise to various corporate social responsibility initiatives aimed at:
The academic world

Sponsorship of the Master in 'Railway Systems Engineering' in collaboration with the University of Rome 'La Sapienza' and the Italian State Railways (FSI)
Triennial cooperation of the Bologna site with the University of Modena for two Doctorates in Industrial Research
Sponsorship of Alma Mater Bologna's Systems Engineering for Integrated Mobility Summer School, in collaboration with the FSI and the University of Bologna
Collaboration with local technical institutes for the education and training of the young: the various company departments periodically host students attending technical schools located in the neighbourhoods of Alstom sites.

Employees

Smart working (>800 employees)
Alstom is a Supporting Member of Valore D, the Italian association dedicated to making the most of women's talents
Collaboration with the Valore D projects "Inspiring Girls" and "Ageless Talents" aimed at valorising gender and generational differences
Promotion of inter- and intra-company educational, training and networking projects, and mentoring programmes
Projects aimed at valorising cultural differences and integrating people with disabilities
The "Health Comes First" corporate wellness programme, which has the aim of sensitising employees to the importance of a correct lifestyle
The Voluntary Social Work project, in the framework of which Alstom employees actively and concretely participate in the life of their local communities or support non-profit organisations

The community

Alstom Foundation finances the "Give a Chance to Chernobyl Children" project, which offers groups of Belarusian children an opportunity to stay with Italian families during the summer 
The "Emergency Food and Overnight Shelter" project for homeless people in Savigliano 
A programme for collecting uneaten food from the canteens of the company's three principal sites, in collaboration with the Food Bank 
The Railway Museum project that includes various itineraries within the municipality of Savigliano
The after-school project in the earthquake-stricken areas of central Italy
Sustainable mobility projects (carpooling, electricity charging points for cars and motorcycles) 
High-speed trains and signalling

25 high-speed AGV trains for NTV and 17 Pendolino EVO for NTV ; ERTMS level 2 for high-speed lines in Italy

Control centres

Integrated control centre for Bologna central station and signalling system for Passante di Bologna ; Integrated control centre for Roma node.

Renewal of signalling systems

West Denmark, Arad-Curtici line (Romania), Beni Suef-Asyut line (Egypt) ; Milan Metro Line 1 without service interruption.

Infrastructure

Electrification of part of the Bologna-Florence and Treviglio-Brescia high-speed line ; Florence tramway, lines 2 and 3 and new tramway system Desio-Seregno (MI); Infrastructure for metro line 12 of Mexico City and new metro line Caracas/Los Teques, Line 5 Lilla of Milan Metro.

Maintenance and renovation

Fleet maintenance: Minuetto (Trenitalia); Coradia Meridian (Trenord); 30 years maintenance for Italo (NTV) AGV and Pendolino EVO; Trenitalia Z1 coaches renovation.
Coradia Stream Pop

In 2016, Alstom has been awarded a frame contract for the delivery of 150 Coradia Stream trains for Trenitalia. The latest generation of trains designed for regional and intercity lines will be destined for various Italian regions.

Italo EVO

Alstom is building 17 Avelia Pendolino high-speed trains for NTV operators. Called Italo EVO, these trains, in addition to the existing fleet of 25 AGVs, will bring up the NTV fleet to a total of 42 Avelia trains.

Coradia Meridian Jazz

Alstom is currently building new Coradia Meridian regional trains for Trenitalia and FNM (Ferrovie Nord Milano) 's fleet of "Jazz" trains (which will reach 136 units by 2019).
Working at Alstom in Italy
By designing and producing innovative transport solutions, Alstom's 32,800 employees contribute to improving the sustainable development of infrastructures and services in about 60 countries. 
Our success depends on motivated and professional teams, and is also based on the application of a Code of Ethics by all of our employees. Our principal priorities are respect for diversity, equal opportunities, health and safety, the sharing of knowledge, and the development of our human resources.
Are you interested in growing with us in a dynamic, international, highly technological and innovative environment?