Bogies at a glance
Designed to optimise total cost of ownership
Innovation for passenger comfort
Customised maintenance and repair services
As a crucial component at the heart of train dynamics, Alstom's wide range of bogies ensures safe and cost-effective operations, as well as comfortable travelling conditions.
Suited to everyone
Our extensive catalogue of bogies meets the needs of operators of all rail solutions ranging from tramway up to very high-speed passenger rail, i.e. from 70 km/h to up to 350 km/h. Adapted to suit all environments and conditions of use, our bogies are built to cater to a range of track gauges and axle loads and to function optimally at a variety of operating speeds and in extreme climates. 
Fulfilling customer requirements
Alstom bogies have a specific total cost-of-ownership focus: our tram bogies for instance are the lightest on the market, reducing track wear and energy consumption, and therefore the costs relating to operations and infrastructure maintenance. They are also easy to maintain, in particular thanks to our range of spare parts, tailored maintenance and repair services. We make a point of supporting our clients throughout the bogie life cycle, enabling them to concentrate on their core business. Furthermore, our network of component manufacturing centres on all five continents ensures unparalleled proximity with our clients.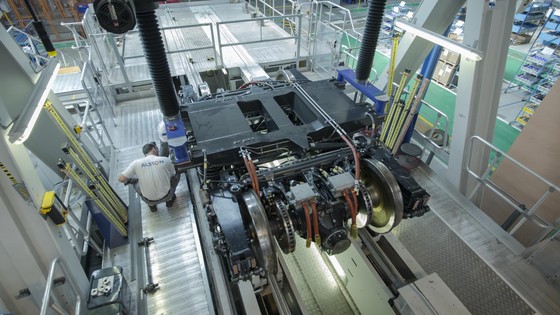 Innovation first
Specifically designed to meet local railway standards wherever they are used in the world, our bogies also display the latest technological advances, combining operational efficiency with passenger comfort. Examples include the levelling system on pneumatic secondary suspension to adjust trains to platform height currently being installed on Montreal Metro (REM) & TGV 2020 (SNCF),  or the elastic wheel fitting our Ixege LRV bogies developed to improve the squealing noise performance by up to 90%. For specific customers, a variable gauge and variable height bogie exists enabling  operation both on 1,000 mm and 1,435 mm tracks. This innovation drive is often the decisive factor behind rolling stock contract wins, such as those for the Coradia Stream regional trains in the Netherlands and Italy in 2016 - innovation supported by our experts in two bogie engineering centres located in France and Germany.
bogies manufactured every year
19
components manufacturing centres worldwide, including 10 sites for bogies
Contact us
Fill in the contact form below and your request will be sent to our dedicated team