Commitments
Sustainable mobility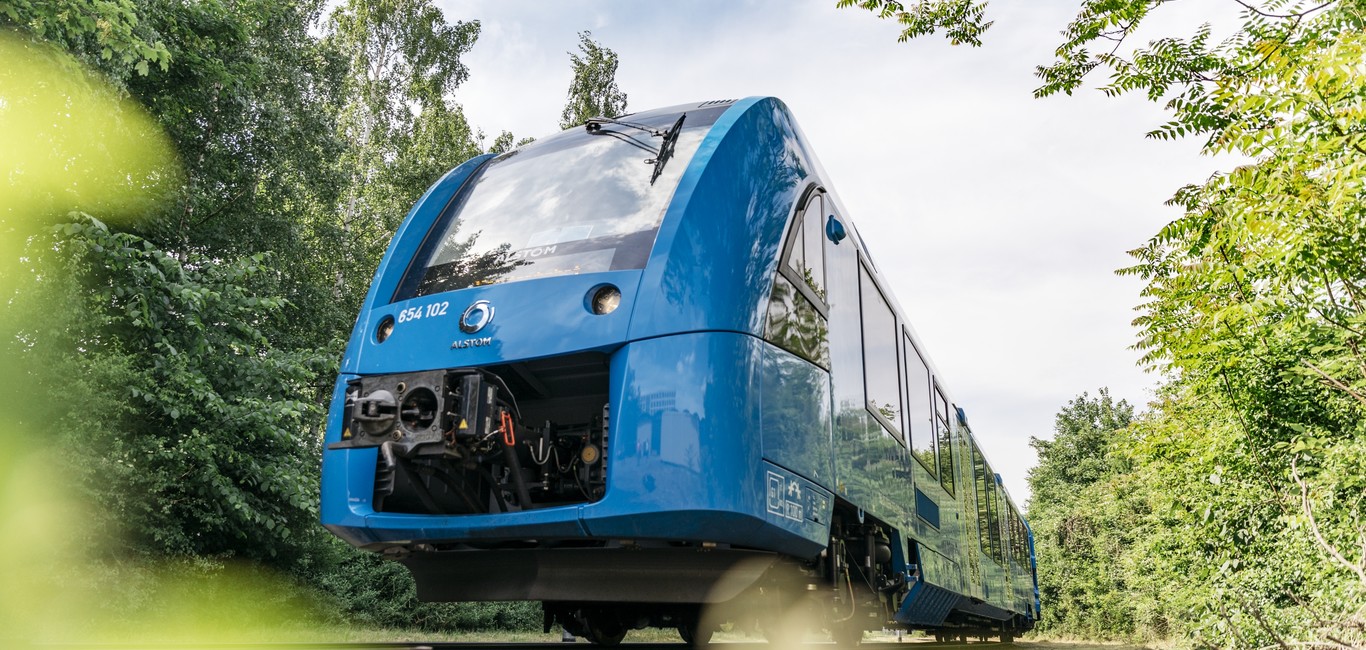 We are committed to taking up the challenge of sustainable mobility
With rapidly evolving demographics and consequent massive urbanisation, transport systems will have to be redesigned to meet the increasing demand for mobility while preserving the environment. It is our mission to accompany their transition towards sustainable transport systems by designing and delivering innovative and environmentally-friendly solutions.
27%
of the worldwide CO2 emissions (from energy combustion) come from transport
~75%
of the global population will be living in urban areas by 2050
x2
The global demand for passenger traffic could more than double between 2015 and 2050
The booming demand for urban mobility is leading to a significant increase of all transport modes. As a consequence, the risk of a further growing pollution and subsequent increase in environmental and health challenges has never been higher. 
Curbing worldwide emissions from transport will be key in reducing our collective environmental footprint. 
That's why we are fully committed to reducing the carbon footprint of transport solutions, as well as to adopting climate-resilient and low-carbon strategies that will enable the transition to a truly sustainable global transport system. 
Our pledge for carbon neutrality in transport 
The implication of the Paris Agreement is clear: to limit the rise in temperature to well below 2°C by the end of the century, carbon neutrality must be achieved by 2050. Alstom is committed to science-based CO2 emissions reduction targets in line with the Paris Agreement.
Alstom is committed to supporting carbon neutrality in transport and has adopted a "Climate and energy transition strategy" along three lines:
placing energy-efficient electrical rail solutions at the heart of its portfolio;

enabling the transition to sustainable mobility solutions;

decarbonising its operations.
Our eco-design strategy
Alstom's eco-design policy consists of continuously improving the sustainability performance of its solutions by monitoring and reducing their environmental impact throughout their entire lifecycles. The priorities set in Alstom's eco-design policy focus on : energy efficiency of rail transport systems; use of clean, recyclable, and natural materials; reduction of noise and vibrations; reduction of air emissions; and end-of-life management of products, particularly in maintenance activities.
On the production side, lifecycle assessments help to identify significant environmental aspects and improvement areas and assist in the making of technical choices. On the customer side, the environmental product declarations (EPDs) provide a detailed picture of the impact of various Alstom solutions.
Alstom's state-of-the-art light rail vehicle (LRV), the Citadis X05, is being pioneered as a public transport solution in Sydney, Australia. Its impact on the environment will be minimised through increased energy efficiency achieved by the use of electrical braking, permanent magnet motors, LED lights, sensor-based air-conditioning and the use of water-based paints and non-hazardous materials for construction. The energy requirements have been reduced by more than 15% and each vehicle is 99% recyclable at the end of its lifespan (30 years).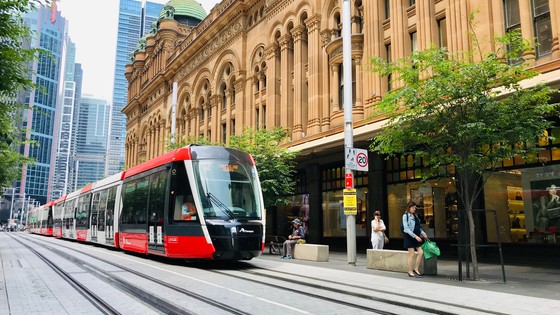 25%
Alstom's objective to reduce its energy consumption of its solutions by 2025 (compared to 2014). As of March 2023, it has achieved a reduction of 22.5%
65%
of the newly-developed solutions in Alstom's portfolio are classified as eco-designed
100%
is our target for newly-developed solutions with eco-design by 2025
A complete portfolio of sustainable solutions
In line with its commitment to facilitate a global transition to a low-carbon transport system, Alstom has pioneered several sustainable mobility solutions.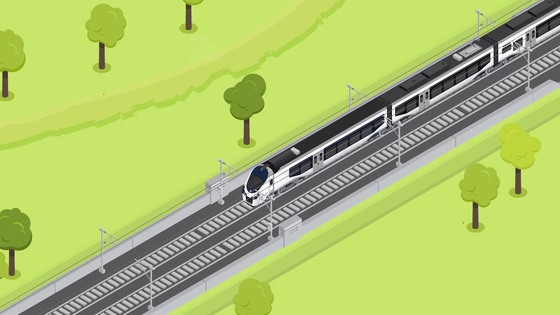 In February 2020, we have received an order for eleven battery powered regional trains for the Zweckverband Verkehrsverbund Mittelsachsen (VMS) in Germany. These were the first battery trains to be ordered from Alstom. Offering both hydrogen and battery is an important milestone for the Alstom, as it further proves our central role on the emission-free mobility market.
Trains go green: focus on battery and hydrogen
We've tailored the Coradia range to operate with all available emission-free power systems, from electric to battery-electric and hydrogen fuel cells. 
Joining the public debate and common initiatives
Our commitment to fighting climate change extends beyond the sphere of its own solutions. Alstom has teamed up with a number of leading bodies working to promote corporate involvement in overall sustainable development.
In 2008, Alstom joined the United Nations' Global Compact organisation, designed to encourage companies to commit to a set of key values spanning human rights, labour standards, environmental protection and ethics in business practices. 
As a member of the Paris Process on Mobility and Climate (PPMC) and an active participant in the UN Climate Change Conference , Alstom is a key contributor to various international initiatives that aim to combat climate change in transport and reach the +2°C target set by the Paris Climate Agreement. Besides, the Group continues to support UNFCCC forums (United Nations Framework Convention on Climate Change) to show how its technologies support the transition towards a low carbon emissions society.
Alstom is a member of the "Sustainable Low Carbon Transport Partnership" (SLoCaT) initiative that brings together international players committed to sustainable mobility.
Alstom is a founding member of the Transport Decarbonisation Alliance, which gathers States, local authorities and industrialists eager to accelerate the transformation of the transport sector into a sector with zero net CO2 emissions by 2050.
As a member of the International Union of Public Transport (UITP), Alstom signed its Charter of Sustainable Development.
Promoting alternative solutions to diesel for transport
Alstom's participation to the One Planet Summit in Paris in December 2017, outlined the company's long-term strategy regarding transport decarbonisation, and emphasised the essential role of hydrogen in clean energy storage.
Alstom is a highly active member of the Hydrogen Council, which was launched at the World Economic Forum 2017 in Davos and aims to accelerate investment in the development and commercialization of the hydrogen and fuel cell sectors. As part of its "sustainable pathway for the global energy transition", the Council has established that 10% of trains sold for non-electrified railways could be powered by hydrogen by 2030.
In 2017, Alstom joined the Corporate Partnership Board (CPB) of the International Transport Forum (ITF). The ITF is an intergovernmental organisation with 66 member countries that facilitates global dialogue for better transport. The CPB is the ITFs platform for engaging with the private sector and enrich global transport policy discussion with a business perspective. By joining the ITF, Alstom actively participates in policy-related projects on transport infrastructure and services and the decarbonisation of transport. 
Collaboration with research institutes
We are also teaming up with leading research organisations to share scientific knowledge and research initiatives. This is another vivid illustration of Alstom's contribution to combating climate change and facilitating the shift to sustainable mobility. 
Monetary contributions
Our monetary contributions to international and French trade-associations amount to €2,281,966 for the fiscal year 2022/23. Contributions to political parties and campaigns are forbidden by the Group E&C instructions.
Environmental Product Declarations (EPD's)
The UK's New Green Age: a step change in transport
Decarbonisation calls for a £10bn investment programme in UK rail and mass transit systems, after research revealed that the UK has opportunities to improve infrastructure, learning lessons from international examples. As well as the economic benefits, the report reveals the true scale of environmental advancements that these schemes bring, including tackling carbon emissions, cleaning air and supporting modal shift.
To support green transport options the report also calls for rolling out fleets of clean, zero emission hydrogen trains to replace polluting diesels and investment to speed up electrification projects and support initiatives such as Northern Powerhouse Rail and Midlands Engine Rail. These will all serve the multiple purposes of benefiting the economy, jobs, and our environment.
Socio-economic impact reports
We are working on a number of socio-economic impact reports, which showcase the impact Alstom has on different countries we operate in. These studies are based on a number of CSR-related KPIs connected to Alstom's CSR strategy pillars. As you read the reports, you will find we include several examples of how we use our strengths to assist and contribute to the betterment of the country, along with its citizens at large. 
We have worked, in collaboration with Ernst & Young, on Alstom South Africa's first socio-economic impact report. The study focuses on the impact of Alstom in South Africa and is based on the identification, computation and evaluation of more than 40 CSR-related KPIs. You can find the full report below.