Switchgear at a glance
Dedicated centre of excellence for switchgear
Safe, reliable and easily maintainable
Designed and validated in short time for customer applications
Optimised solutions for low lifecycle costs
Large product catalogue for customisation
Railway systems of all speeds and all capacities can benefit from the reliability and technical prowess of Alstom's extensive range of switchgear components.
Ticking every box for switchgear
The power availability is crucial in a railway system; Alstom offers an extensive range of standard high quality switchgear components and services which include circuit breakers, contactors, disconnectors and energy metering solutions. Catering to all voltage and environments, our solutions can be used in every electrified rail system and for all types of rail vehicles, from trams to locomotives and from regional to very-high-speed trains. Adopted by clients across all five continents, our eco-designed solutions offer the latest innovations to enhance energy efficiency, reduce noise and vibrations and optimise total cost of ownership throughout the lifecycle.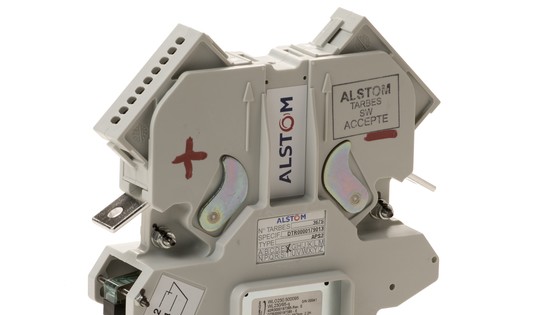 Suited to customer requirements
Whatever the operating environment, Alstom's switchgear solutions provide a suitable and reliable solution. Components have been designed to comply with the latest standards, to withstand temperatures below -40°C and above 85°C and also extreme humidity. The range covers rolling stock and infrastructure applications. Products can be supplied case-mounted or as standalone for integration.
Additional services
Our product offering doesn't stop at design and manufacture: we naturally accompany our clients throughout the lifecycle of their systems. With our product maintenance and repair services and our extensive range of spare parts, customers' energy subsystems are guaranteed optimal availability. The Alstom range also extends to support provided on customers' premises in the form of test benches and training. We combine our in-house developments and innovation with our long-standing experience of railway systems to guarantee our clients the latest reliable state-of-the art products and support.
150,000+
units in operation