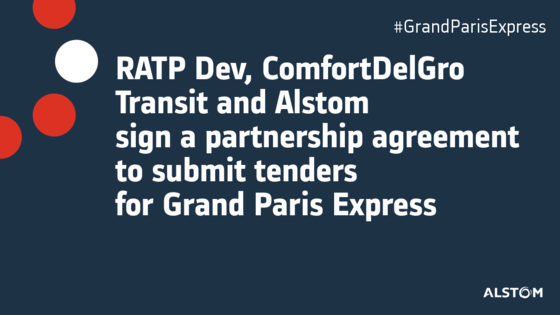 RATP Dev, ComfortDelGro Transit, and Alstom sign a partnership agreement to submit tenders for Grand Paris Express
Press releases and news
18 Jun 2020
RATP Dev, ComfortDelGro Transit, and Alstom sign a partnership agreement to submit tenders for Grand Paris Express
Paris, 18 June 2020 - RATP Dev, ComfortDelGro Transit, and Alstom today announced that they would form a consortium to submit tenders for the Grand Paris Express transport project. The three companies will create a joint venture* for that purpose, with RATP Dev as the majority shareholder.
As global players in the transport sector, RATP Dev, ComfortDelGro Transit, and Alstom have chosen to combine their strategic areas of expertise to offer the transport authority organising the project—Île-de-France Mobilités—and residents of the Île-de-France region integrated multimodal and intermodal transport solutions that meet the highest international standards for operation, maintenance, and service. This alliance marks the emergence of a player in the region with the broad spectrum of skills and experience needed to rise to the challenges of the Grand Paris Express, one of the largest transport projects in Europe.  The consortium will submit tenders for the future metro lines 16 and 17.
Catherine Guillouard, Chairwoman of the RATP group stated: "The partnership signed by RATP Dev with transport players such as ComfortDelGro Transit and Alstom is a strategic coup for the RATP group.  On a daily basis and all over the world, RATP Dev, under the leadership of Laurence Batlle, proves its ability to offer high-performance, safe, and innovative transport solutions to serve the cities and regions of today and tomorrow. This alliance with ComfortDelGro Transit and Alstom underscores a shared desire to help the Paris Greater Region develop its transport networks for the benefit of the local population and to bolster the city's reputation around the world. This is a major undertaking, and I know that RATP Dev's teams are ready for it and determined to make it a success."
Describing the tie-up as "exciting", ComfortDelGro Managing Director/Group CEO, Yang Ban Seng, said: "For a while now, we have been looking for a strong overseas rail operator to partner us in international rail projects. RATP Dev is widely acknowledged as being one of the very best out there with a wealth of experience, operating not just in France, but in a host of other countries on 4 continents. Our experience, coupled with RATP Dev's and Alstom's experiences, ensures that we don't just bring a depth of experience to our bids, but breadth as well."
Jean-Baptiste Eyméoud, President Alstom France declared: "The partnership signed with RATP Dev and ComfortDelGro Transit allows Alstom to extend its maintenance know-how in France, in particular in metro maintenance that the Group has already developed in many capitals around the world. The complementarity of the respective expertise of RATP Dev, Comfort DelGro Transit and Alstom will make it possible to offer a competitive and quality offer to the Île-de-France Region and to future Grand Paris Express travelers."
* naturally, the joint venture is subject to the requisite administrative authorisations.