Avelia Liberty at a glance
Innovative articulated design
Tilting capability to reduce travel journey by up to 30%
Safety at up to 350 km/h
Scalable and customisable
Avelia Liberty is the latest addition to the Avelia family of very high-speed trains, ordered in 2016 by Amtrak for the Northeast Corridor in the USA.
Carrying more people faster
The Avelia Liberty solution increases the capacity of the Acela Express service which is fast reaching saturation point. Running at up to 300 km/h (186 mph), trains will be fitted with Tiltronix technology in order to take curves faster and thus reduce journey times. Trainsets are longer, power cars are shorter and overall passenger capacity is up to 30% higher than on the existing Acela trains.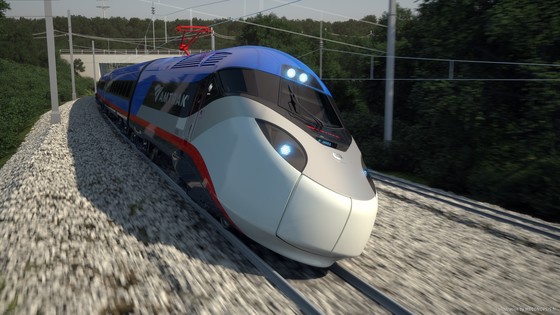 Safety and comfort
Alstom's latest very high-speed train was designed with safety at the forefront. Its concentrated power cars at each end of the trainset provide enhanced protection for passengers in the event of a collision. The articulated design of Avelia Liberty adds further benefits: the rigidity of the trainset prevents deformation and mitigates the risk of tipping over in the event of derailment. With bogies placed between cars instead of beneath seats, passengers enjoy reduced noise and vibration levels.
Avelia Liberty also offers excellent accessibility with flat and wide interiors, quasi-static gangways and gap fillers for easy boarding. Interiors have been optimised so that the ergonomically-designed seats also provide optimal legroom for passengers, who also have access to electrical and USB sockets, broadband Wi-Fi and individual lighting.
Prepared to evolve
Avelia Liberty can easily be adapted over time as needs change. It can evolve from nine cars up to 12 without any modification to the traction system, and can increase speed up to 350 km/h (220 mph) without the tilting system. Finally, as it is designed as a hollow tube, interior fittings and design can be totally revisited to cater to changing passenger expectations.
Life cycle cost
With a keen eye on the longer term, Alstom's engineers designed Avelia Liberty to be cheaper to own throughout its life cycle. Lighter than other trains, it exerts less pressure in infrastructure and consumes less energy, whilst also recovering braking energy. Maintenance factors are incorporated from design phase to ensure the reliability and ease of maintenance, whilst these costs are also 10 % lower due to predictive maintenance techniques.
28
Avelia Liberty trainsets sold to Amtrak
450
Avelia trains sold with the same configuration
15
to 30 % lower energy consumption
15%
lighter than the competition