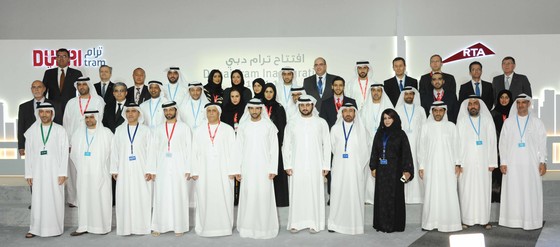 Alstoms tramway system starts operation on the worlds first 100% catenary-free line
Press releases and news
12 Nov 2014
Alstoms tramway system starts operation on the worlds first 100% catenary-free line
Press Contacts
Visit our media section and follow the link "Press contacts"
On 11 November, His Highness Sheikh Hamdan bin Mohammed bin Rashid Al Maktoum, Crown Prince, Chairman of the Executive Council inaugurated the Dubai Tram, in presence of His Highness Sheikh Maktoum Bin Mohammed Bin Rashid Al Maktoum, Deputy Ruler of Dubai, Vice Chairman of the Executive Council and His excellency, Mattar Al Tayer, Chairman of the Board and Executive Director of Roads and Transport Authority (RTA) and Henri Poupart-Lafarge, President of Alstom Transport.
Official picture_Nov. 11, 2014.jpg
This full system project - that was assigned to Alstom[1] by Dubai Roads and Transport Authority (RTA) - was launched to foster multimodal transportation use and to reduce traffic congestion and pollution. This first Tramway in the entire Gulf region is expected to serve about 27,000 passengers per day and is anticipated to hit about 66 000 by 2020.
His Excellency, Mattar Al Tayer, Chairman of the Board and Executive Director of the Roads and Transport Authority (RTA), said: The Dubai Tram is a brainchild of His Highness. Sheikh Mohammed bin Rashid Al Maktoum, Vice-President and Prime Minister of the UAE and Ruler of Dubai, to provide an advanced transport system. When RTA was created in 2005, His Highness ordered to have an integrated and comprehensive solution for the area in order to accommodate the huge urbanization projects in the neighborhood, particularly the JBR and the Marina and Al Sufouh area.
The tram for Dubai, which we are proud to have handed over ahead of schedule, illustrates Alstoms strategy to serve all markets with a complete range of solutions while demonstrating our leading position in tramway systems. Thanks to Alstom and RTAs close collaboration on the project, Dubais citizens can now travel aboard one of the most sophisticated and comfortable tram in the world said Henri Poupart-Lafarge.
The Dubai Tramway includes many Alstoms technological breakthrough. It is the first tram in the world able to run in temperatures of up to 50 °C and to withstand harsh climate conditions such as humidity and sandy atmosphere. Equipped with APS ground-level power supply, the system is also the first in the world to be catenary-free all along the line which is 10.6 km long and counts 11 stations[2]. This technology enables perfect integration of the tramway into the cityscape. Lastly, it is the first line to be equipped with air-conditioned stations and automatic platform screen doors.
The Dubai Tram offers high-end comfort. The Citadis tram is 44 metres long and can accommodate 408 passengers in gold, silver and women & children classes. The tram is equipped with real-time passenger information and video broadcasting. To better reflect the citys image, Citadis tram of Dubai has a distinctive diamond-shaped styling on the front end.
The Dubai Tramway is the eighth system delivered by Alstom in a decade. With seven others under implementation worldwide[3] including the Lusail tram in Qatar, Alstom is the world leader in tramway systems.
[1] For the supply of 11 Citadis, track laying, power network and substations, Urbalis signalling solution, communication and security systems, integrated operation control centre, platform screen doors, road signalling, ticketing system and 13 years of maintenance
[2] Along Al Sufouh Road from Dubai Marina to the Burj Al Arab, the Mall of the Emirates and interconnected to the metro line
[3] Including: Nottingham (UK), Cuenca (Ecuador), Rio (Brazil),
Press Alstom Group
Virginie Hourdin / Claire Biau
Tel.: +33 1 41 49 21 36 / 39 95
virginie.hourdin-bremond@chq.alstom.com
claire.biau@ alstom.com
Press - Alstom Transport
Linda Huguet / Justine Rohee 
Tel.: + 33 1 57 06 10 42 / 18 81
linda.huguet@transport.alstom.com
Justine.rohee@transport.alstom.com
Press - Alstom Transport UAE
Tarek Solimane 
Tel.: +971 44 29 41 38
tarek.solimane@alstom.com
Alstom Transport / James Chakson