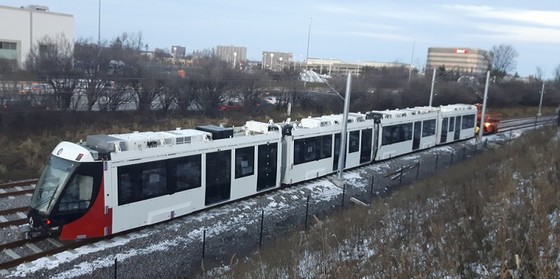 Alstoms Citadis Spirit begins train dynamic testing in Ottawa
Press Contacts
Visit our media section and follow the link "Press contacts"
20161205---Ottawa-testing---800x320.jpg
Alstoms Citadis Spirit, a 100% low-floor light rail vehicle designed for North America, began dynamic testing on the O-Train Confederation Line in Ottawa, Ontario. Witnessing the trains first tests were David McGuinty, Member of Parliament for Ottawa South, on behalf of the Honourable Amarjeet Sohi, Minister of Infrastructure and Communities, the Honourable Steven Del Duca, Provincial Minister of Transportation and Member of Provincial Parliament for Vaughan, City of Ottawa Mayor Jim Watson, and Angelo Guercioni, Managing Director for Alstom in Canada, as well as other dignitaries. Ottawas future light rail vehicles will be tested both at the Belfast Yard Storage and Maintenance Facility (Belfast Yard), as well as along four (4) km of test track. 
During this phase of the project, the trains will undergo various tests, including dynamic testing at speeds of 80 km/h, and even up to 100 km/h. The dynamic tests that will take place on the test track will focus on traction and braking performance, train behaviour, as well as the comfort and performance of the bogies. Static testing will take place at Belfast Yard and will validate function performance, including HVAC, doors, lighting, passenger information and on board data systems. This phase of testing will run through to the end of March 2017, during which more than 50 test procedures will be completed. Upon completion of this first series of tests, more than a dozen tests will be conducted on a multiple unit train, i.e. two trains coupled together. 
The commencement of dynamic testing marks the first 100% low floor vehicle to enter validation testing in Ontario and brings the Citadis Spirit one step closer to the start of commercial service in the City of Ottawa. This rigorous testing of the trains will ensure smooth and safe operation for both the operators and passengers alike, said Angelo Guercioni, Managing Director for Alstom in Canada. 
Alstom is supplying 34 Citadis Spirit light rail vehicles for the O-Train Confederation Line, and will maintain both the vehicles and the lines infrastructure for a period of 30 years. This first phase of the O-Train Confederation Line comprises 13 stations along a 12.5-kilometre route, with 10 kilometres running at ground level and 2.5 kilometres underground. The O-Train Confederation Line is expected to begin full revenue service in 2018. 
Thanks to its modular design, the Citadis Spirit provides for a very flexible manufacturing process. The Citadis Spirit is being assembled by a local workforce at Belfast Yard, creating over 100 jobs in the Ottawa area, with the support of an established supply chain of over 60 Canadian suppliers to meet the 25% Canadian content requirement. In addition to vehicle assembly in the Ottawa area, the Alstom manufacturing facility in Sorel-Tracy, Quebec is assembling the bogies for the Citadis Spirit. 
The Citadis Spirit is based on Alstoms Citadis range of light rail vehicles and builds upon the experience of more than 2,300 Citadis sold to 55 cities around the world. Customised for the needs of the North American market, including operation in temperatures as low as -38°C, the Citadis Spirits 100% low floor design offers easy accessibility from the street or the curb, and an interior layout that provides a safer and more enjoyable experience. Thanks to its modularity and full low floor, the vehicle can provide both light rail service, including urban service in cities running at grade and in mixed traffic, and suburban service on segregated rail infrastructure at speeds up to 100 km/h. The vehicles highly customizable exterior and interior styling options reflect cities unique identities, complimenting the urban environment with seamless integration.