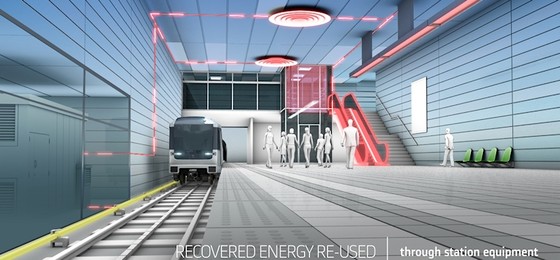 Alstoms multi-award winning energy recovery substation in commercial service in London Underground
Press releases and news
16 Mar 2016
Alstoms multi-award winning energy recovery substation in commercial service in London Underground
Press Contacts
Visit our media section and follow the link "Press contacts"
Alstom and London Underground won awards this year from both Railway Industry Awards and Transport Times in the UK for Hesop, Alstoms advanced reversible power-supply substation. It has been in commercial service at the Cloudesley Road station for a year to serve the London Undergrounds Victoria Line, bringing full satisfaction to the customer. Designed to deliver the best energy efficiency, Hesop also reduces infrastructure investment, limits CO2 emissions and decreases the temperature within the metro network.
Hesop works by converting and transferring any unused power, generated by the trains during braking, to the medium voltage loop for re-use within the network. The Hesop control system ensures that the energy is recovered via the most efficient route that the infrastructure will permit. Hesop allows to recover more than 99% of the traction energy generated during braking which is usually lost, thereby reducing CO2 emissions through reduced energy consumption. 
London Undergrounds tunnels being small, most of the heat produced by the trains stays in the tunnel and surroundings. Hesop enables to reduce the number of braking resistors and therefore reduces tunnel heating by removing the heat source. Cooling equipment along the system can thereby be further optimised and the Tube becomes cooler without huge investments for additional equipment, such as ventilation shafts. 
Should Hesop be installed more widely across the Underground, there are huge potential benefits in both energy reduction and also in relation to tunnel cooling which Im sure would be welcomed by commuters, said Terence Watson, Alstom Managing Director in the UK & Ireland 
Hesop benefits from 4 years of experience on the Paris tramway T1 line. Upcoming implementations include Milan tramway and metro, Riyadh metro, Sydney tramway and Panama metro. 109 Hesop substations have been sold by Alstom so far. 
The development of a the 1,500 V versions of our Hesop reversible substation was selected by the LIFE+ programme of the European Commission