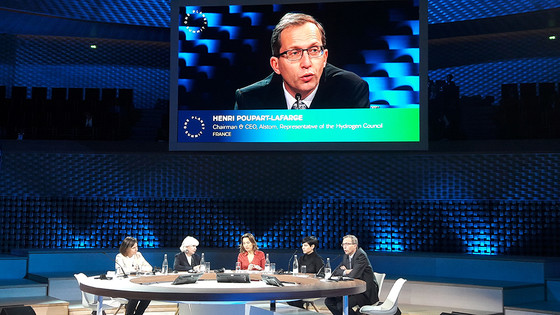 Alstom CEO speaks at One Planet Summit in Paris
Press Contacts
Visit our media section and follow the link "Press contacts"
20171212--oneplanetsummit--1000x600.jpg
Representing Alstom and the Hydrogen Council, Henri Poupart-Lafarge has appeared as part of a panel at One Planet Summit, an event co-organised by the French Presidency, the United Nations and the World Bank.
Mr. Poupart-Lafarge was there as CEO of a world-leading mobility company and on behalf of the Hydrogen Council following its meeting at COP 23 in November. Other panel members included Isabella Lövin, Swedish Minister for International Development Cooperation and Climate and Deputy PM, Laurence Tubiana, CEO of the European Climate Foundation, and Monica Araya, Founder and Executive Director of Nivela, Costa Rica. 
Sustainable transportation is at the centre of any discussion about limiting global emissions. At todays Summit, Mr. Poupart-Lafarge explained the Hydrogen Councils aim of ensuring that all hydrogen used in transportation be completely decarbonised by 2030. We need partnerships, to be all around the table establishing the right technical, financial and legislative environment to allow this decarbonised hydrogen to emerge. As part of a broader energy policy, we know that hydrogen can play a key role in clean energy storage.
With the launch of the Coradia iLint in 2016 the worlds first Hydrogen fuel cell train followed by a first contract for 14 trains signed with Germanys Lower Saxony region in October 2017, Alstom is ahead of the curve in driving decarbonisation in the mobility sector. Indeed, the innovation is proof that hydrogen fuel cell vehicles are feasible, both technically and commercially. What we need to develop is everything around it: the infrastructure and complete decarbonisation of the hydrogen used. 
The One Planet Summit, co-organised by the French Presidency, the United Nations and the World Bank, marks the two-year anniversary of 2015s Paris Agreement. Assembling critical public and private stakeholders, the Summit aims to establish the financial alignment and concrete financing solutions that will enable the realisation of the Agreements objectives, both in terms of emissions reduction and the protection of populations against the consequences of climate change.
Find out all about the potential of hydrogen technologies for a sustainable future with the latest Hydrogen Council's study: "Hydrogen, Scaling up" (November 2017) 
Meeting todays needs without compromising tomorrow: Alstom is a global player committed to economic and social development.