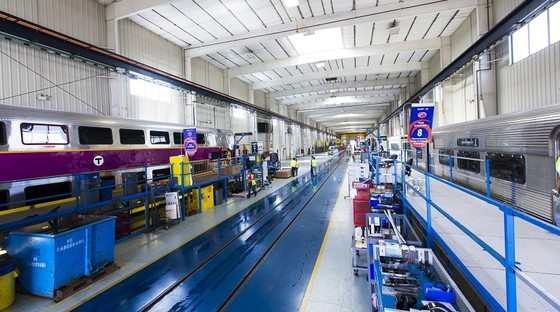 Alstom offsets environmental impact of Hornell activities
Press Contacts
Visit our media section and follow the link "Press contacts"
20180119---Hornell-env-800x320.jpg
Alstom is pleased to announce that it has purchased over 13 million kWh of Renewable Energy Certificates (RECs) from leading energy and energy-related services provider Direct Energy Business for its Hornell operations. As Alstoms Hornell operations do not have access to locally produced renewable electricity, the purchase of RECs is an investment in green electricity produced elsewhere in the nation and a means of offsetting the carbon footprint of Hornells operations.
The certified RECs purchased are associated with 100% green, renewable-sourced electricity. Alstoms purchase of 13 million kWh in RECs avoids the release of over 10,000 tons of CO2 into the environment, as would normally occur if sourcing electricity from conventional power generation assets. This roughly translates into 14 tons of CO2 per day not released into the environment.
As part of the companys strategy, Alstom sites around the world strive to be a reference in responsible operations, including by reducing or offsetting the environmental footprint of their operations. As such, Alstom in Hornell is paying particular attention to the environmental impact of its activities and progressively looking for means to offset the carbon footprint of producing the products and solutions it delivers to customers.
Rebecca Agee, a buyer at Alstom in Hornell, is behind the companys energy sourcing approach. She says: Energy and electricity are required for our operations so that we can build subway cars and high speed trains for America. Alstom is an industrial leader committed to corporate social responsibility, but without direct access to renewable power. Thus, it made perfect sense for Alstom to purchase renewable energy credits.
In addition to the purchase of RECs, under the leadership of Greg Rollins, Logistics Manager at Alstom and his team, Alstom is also increasing its waste recovery rate with the assistance of Casella Resources Solutions. In 2016 alone, Alstom in Hornell recycled over 100,000 pounds of fiber, metal, plastic and glass. In return, Alstom was able to save more than 800 mature trees, 300 cubic yards of landfill space, 515,000 kWh of electricity, 24,000 gallons of oil and 2,800 pounds of air pollutants.