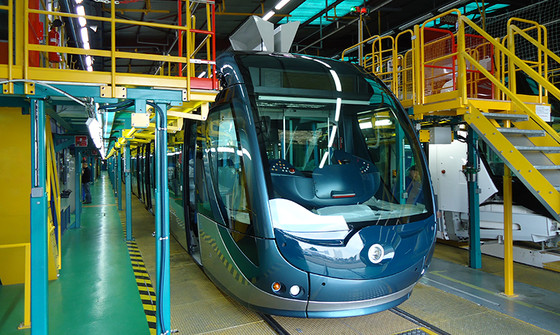 Alstom to supply 10 extra Citadis trams to Bordeaux Metropole
Press Contacts
Visit our media section and follow the link "Press contacts"
20180111--bordeauxtram--800x450.jpg
Alstom is to supply 10 additional Citadis trams to Bordeaux Metropole for a total amount of nearly 30 million[1] as part of the optional order for the Bordeaux Phase III project, which was notified on 29 August 2011. 26 trams, representing the firm order, entered circulation in 2013 and 2014. 15 trams are currently being manufactured as part of the optional order at the Alstom site in La Rochelle.
These new 44-metre-long trams are identical to those of the previous orders and are intended to reinforce the multi-line transport offer of the city of Bordeaux from 2019. They will be designed and manufactured in line with the 15 trams currently being produced at the site of La Rochelle. Once this order has been delivered, the tram fleet in circulation on the 77 kilometres of track on the network will consist of 125 Citadis in total. Bordeaux Metropole therefore has one of the largest tram fleets in France, with its first order dating back to 2000.
"This order is excellent news for Alstom and in particular for the La Rochelle site. We are pleased that our historic customer Bordeaux Metropole has once again placed its trust in us. A total of 25 trams will be manufactured at our site in 2018/19 with delivery scheduled for mid-2019," said François Papin, Alstom site manager in La Rochelle.
All the Citadis trams (33 and 44 metres) of Bordeaux Metropole are equipped with the APS ground-level power supply system, also implemented in the tramway systems of Reims and Dubai. They can accommodate between 218 and 300 passengers each, the equivalent of more than 3 buses. Citadis trams offer optimal on-board travel quality with a fully low floor, air conditioning, a video surveillance system and audio-visual information. Up to 98% recyclable, Citadis helps preserve the environment.
Bordeaux Metropole was the first customer to place its trust in Alstom's new power supply solutions, which represent an alternative to conventional catenary power supply. As well as APS, new technological innovations are available to reduce energy consumption and preserve city centres: SRS, an innovative ground-based static charging system, Citadis Ecopack, batteries and super capacitors.
The trams will be manufactured in 7 Alstom sites in France: La Rochelle for the design and assembly, Ornans for the engines, Le Creusot for the bogies, Tarbes for the traction system equipment, Villeurbanne for the on-board electronics, Vitrolles for the APS and Saint-Ouen for the design. 
In total, over 2,500 Citadis trams have been sold to more than 50 cities in 20 countries.
[1] Booked in Q3 of the current fiscal year