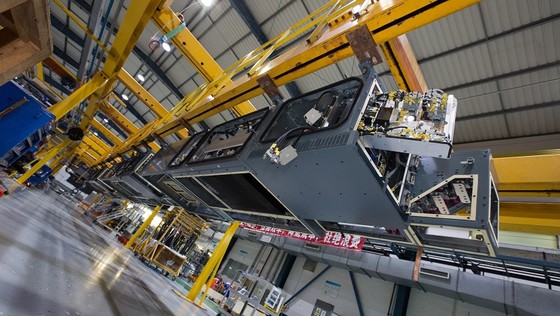 Alstom to supply traction and signalling system to the 1st driverless metro line in Chengdu
Press releases and news
04 Jan 2018
Alstom to supply traction and signalling system to the 1st driverless metro line in Chengdu
Press Contacts
Visit our media section and follow the link "Press contacts"
20180104---OpTONIX traction system_SATEE_2---800x320.jpg
Alstom and its JVs in China, SATEE and CASCO[1], have been awarded two contracts by Chengdu Railway Corp. Ltd. to supply traction systems for 200 metro cars and CBTC signalling system for the entire line of Chengdu metro line 9 phase one, the citys first driverless metro line. Two contracts are worth approximately 64 million in total[2]. The line is expected to start revenue service by the end of 2020.
 When it opens, Chengdu Line 9 phase one will be about 22km long and have 11 stations. It will connect the citys CBD area in the southwest with citys West Railway station in the northwest.
Alstom will be supplying its OptONIX metro traction system, specifically designed and developed for the Chinese market. All traction systems will be manufactured jointly by Alstoms joint ventures (JVs) Shanghai Alstom Transport Electrical Equipment Co. Ltds (SATEE) [3] and Chengdu Alstom Transport Electrical Equipment Co. Ltd. (CATEE), with support from Xian Alstom Yongji Electric Equipment Co.[4] and two Alstom sites in Europe[5].
Alstom together with CASCO will equip Chengdu Line 9 with its Urbalis signalling system. It is a service proven solution that has been ordered by 54 metro lines in China, 32 of which have started revenue services. CASCO is in charge of the whole life-cycle management of the solution in China.
We are very pleased to win these two contracts supporting Chengdu to build its first driverless metro line in the city. With its international service proven references in driverless metro and its successful execution of driverless metro lines in Beijing and Shanghai, Alstom and its joint ventures are confident delivering these two projects in high level of excellence said Ling Fang, Managing Director of China & East Asia, Alstom.
Chengdu is one of the most important markets for Alstom in China. So far, Alstom has won contracts supplying traction systems for 1252 metro cars of 3 metro lines[6], and CASCO has won signalling system contracts for 2 metro lines in Chengdu[7]. At the end of 2015, Alstom brought its world advanced Citadis tramway technology to Chengdu and build Chengdu Rong No. 2 tramway line in partnership with CRC and a local company. Besides technology, Alstom supplies core components, including traction systems and bogies, and CASCO supplies signaling systems for this line, which will start revenue service in 2018.
[1] Created in 1986, Alstom holds 49% of the shares
[2] Booked in Q3 of current fiscal year
[3] Created in 1999, Alstom holds 60% of the shares
[4] For the motors
[5] Alstoms Charleroi site in Belgium and Tarbes in France for software & technical support
[6] Chengdu Line 3, Line 4 and Line 5
[7] Chengdu Line 4 and Line 7