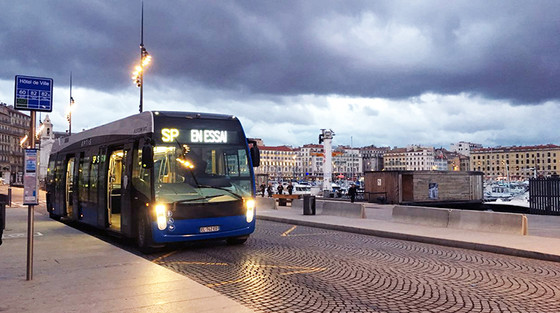 Aptis, the 100% electric mobility solution created by Alstom and its subsidiary NTL, undergoes tests in Marseille
Press releases and news
11 Jan 2018
Aptis, the 100% electric mobility solution created by Alstom and its subsidiary NTL, undergoes tests in Marseille
Press Contacts
Visit our media section and follow the link "Press contacts"
20180111--aptis-marseille--800x450.jpg
20180111--aptis-marseille2--800x450.jpg
Alstom, NTL and the RTM is testing Aptis from 5-12 January on line 82 of the Aix-Marseille Provence Méditerranée Metropole network, under real operating conditions. Aptis, which won a prize at the Busworld Awards [1] in October 2017, is an innovative mobility solution co-developed by Alstom and NTL, the prototypes of which are manufactured at NTLs site in Duppigheim (Bas-Rhin).
The tests are designed to evaluate the specific characteristics of Aptis in a new urban setting, its charging system, its autonomy, and its insertion performance in traffic following the first successful tests in Ile-de-France, Lyon, Strasbourg and Belgium.
Two prototypes of Aptis, co-developed by NTL and Alstom, are currently being tested: the two-door version, which was tested in Paris on the RATP network (lines 21 and 147), Lyon, Strasbourg, Belgium and now in Marseille; and the three-door version, which is being tested for one year by Ile-de-France Mobilités on the Keolis network between Vélizy and Versailles (line 23).
These prototypes were manufactured at the NTL site in Duppigheim. Five Alstom sites in France also contributed to their design and manufacture: Saint-Ouen for the design, systems integration and project management, Tarbes for the traction, Ornans for the motors and Villeurbanne for the electronic components of the traction chain. Finally, Alstoms site in Vitrolles (Bouches-du-Rhône) is developing one of the recharging solutions (SRS).
Aptis, a bus inspired by the world of the tram, provides a unique comfort experience for passengers. Low floors throughout the vehicle and wide double doors allow smooth passenger flows and easy access for wheelchairs and pushchairs. Panoramic windows at the front and rear of the bus provide 20% more window surfaces than a conventional bus, as well as a lounge area at the rear. Aptis also benefits from low noise levels.
The vehicle fits perfectly into the urban environment thanks to its four steerable wheels that minimise the space needed to turn (-25% compared to a conventional bus). This performance is an advantage at bus stops, as it reduces the space required for parking and helps to gain extra space for other vehicles. At night, Aptis can be recharged inside the depot. Alstom will also provide a daytime charging solution at the end of each line. Rapid charging is carried out either via an inverted pantograph or via SRS, Alstom's innovative ground-based static charging system. Thanks to reduced maintenance and operating costs, and a longer service life than that of a bus, the cost of ownership of Aptis is equivalent to that of today's diesel buses.
[1] Aptis won the Innovation Prize at the Busworld Awards on 19 October in Courtrai (Belgium) at the global bus exhibition Busworld
[1] This rolling stock is a transfer of property from the State to the Region