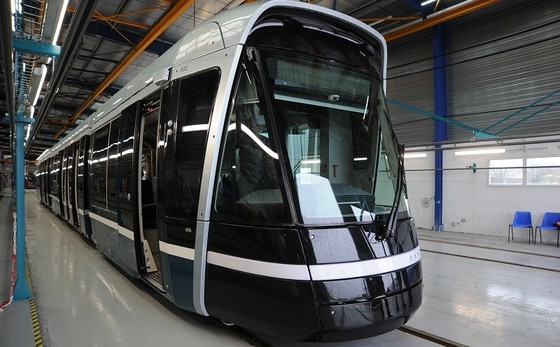 Alstoms first tramway for the City of Lusail in Qatar left La Rochelle, France
Main Press Contacts (Alstom Headquarters)
Visit our media section and follow the "Press contacts" link to find local press contacts at country level
20180221---YRD_5602---800x320.jpg
Alstom just shipped the first trainset for Lusail tramway from its plant in La Rochelle. The convoy will join the Barcelona harbour in order to be shipped by boat to Doha. In 2014, Alstom, as part of LRTC consortium[1] with QDVC, was awarded a contract by Qatar Railways Company to supply a turnkey tramway system for a 4-line tram network in Lusail. The 4-line network will cross the city of Lusail covering a distance of 22km, including 10km underground and 28 stations. The arrival of this first train is expected in March 2018. 
Every step of the production, including final static and dynamic tests, is carried out in La Rochelle, France. After having completed all tests; the first Lusail tram has successfully passed the factory acceptance by the customer. 
Thanks to all Alstom employees involved in the Lusail tramway project, we have managed to achieve this great milestone. We are very proud to work on this project for our customer in Qatar. Alstom is a long-term partner of the Qatari mobility market development, says Didier Pfleger, Senior Vice President, for Middle-East and Africa at Alstom. 
Alstom contributes to providing the city of Lusail with a fully integrated tramway system by delivering the design, manufacturing, commissioning and servicing of 28 Citadis tramways, Track works, power supply equipment (substations, catenary and APS[2]), signalling and platform screen doors. 
Lusail tramway is composed of five cars per single unit, with each 33-meter long car to carry over 207 passengers. Each tramway features two classes: common and family class. The cars will be fully low floor to enable easier access for all passengers. Lusail tramway will offer passengers a high level of comfort. It will include passenger information and security systems both at station level and on-board. The tramways are eco-friendly, and equipped with a full electrical braking system and LED lighting.
[1] Consortium composed of Alstom and QDVC, a Qatari shareholding company in charge of civil works (51 % Qatari Diar & 49% VINCI Construction Grands Projets)
[2] A state of the art ground power supply system