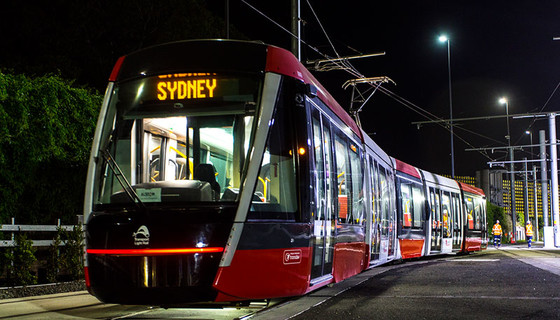 First Citadis X05 Light rail Vehicle begins Testing & Commissioning in Sydney, Australia
Press releases and news
26 Feb 2018
First Citadis X05 Light rail Vehicle begins Testing & Commissioning in Sydney, Australia
Press Contacts
Visit our media section and follow the link "Press contacts"
20180226---Citadis-X05-Sydney.jpg
The worlds first Citadis X05 Light Rail Vehicle (LRV) has entered the testing and commissioning phase for the Sydney Light Rail project, marking a significant milestone in the delivery of the network. 
The CBD and South East Light Rail is a new light rail network for Sydney, currently under construction. The 12km route will feature 19 stops, extending from Circular Quay along George Street to Central Station, through the suburbs of Surry Hills to Moore Park, then to Kensington and Kingsford via Anzac Parade and Randwick via Alison Road and High Street. 
When the network is fully operational, the LRVs will operate in a 67-metre couple set which will have a capacity of up to 450 people, equivalent to up to nine standard buses. The network will have a capacity to move up to 13,500 passengers per hour, which will ensure less congestion on Sydneys roads and more reliable travel times for commuters. 
Passengers have been placed at the heart of the development of this new vehicle, with the emphasis on on-board mobility and comfort. The LRVs include double-doors for improved access and passenger flows, large balcony style windows, multi-purpose areas, ambient LED lighting and the highest levels of customer safety including CCTV monitoring, emergency intercoms and the latest wayfinding aids for passenger information and real time travel information. 
The impact to the environment will be minimised through increased energy efficiency achieved by the use of electrical braking, permanent magnet motors, LED lights, sensor-based air-conditioning and the use of water based paints and non-hazardous materials for construction. Each vehicle is 99% recyclable at the end of its lifespan (30 years). 
"We are extremely proud to see the first official movements of the first Citadis X05 trams in Sydney." said Mark Coxon, Managing Director for Alstom in Australia and New Zealand. The Citadis X05 and associated technologies will transform Sydney and provide a step change in the citys public transport capability and reliability while preserving the aesthetic appeal of the City, said Mr Coxon. 
Initially the LRVs will be tested and commissioned at night on a completed part of the network in Sydneys eastern Suburbs. The vehicles will initially operate as 33 metre sets and will progressively expand their commissioning of the network as further sections are completed. Testing and Commissioning of the entire fleet of 60 LRVs with continue into 2019. 
Currently, more than 50 cities worldwide operate Alstoms Citadis light rail vehicles. The Citadis X05 model has been produced first for Sydney but will also soon be rolled out in other cities including Nice and Avignon (France), and Kaohsiung (Taiwan).