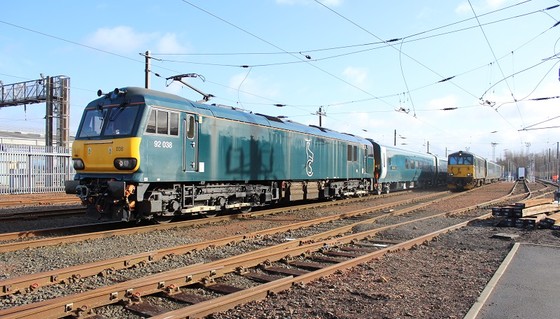 Alstom wins maintenance contract for Caledonian Sleeper Class 92 locomotives from Wembley depot
Press releases and news
17 Apr 2018
Alstom wins maintenance contract for Caledonian Sleeper Class 92 locomotives from Wembley depot
Press Contacts
Visit our media section and follow the link "Press contacts"
20180418---IMG_4347800x320.jpg
Alstom has been chosen to provide maintenance support for the Class 92 locomotives that pull the carriages of the Caledonian Sleeper service. The locomotives will be maintained at the Alstom Wembley Depot for the next twelve years starting this year, in a contract worth around £15 million.
Alstom will provide full maintenance support for 12 Class 92 locomotives securing employment for a production team of 5 plus a number of support roles at their Wembley Depot. 
This new long-term contract, awarded by GB Railfreight (GBRf), will see Alstom expanding their existing portfolio from coach maintenance to managing the maintenance of both carriages and locomotives for the Caledonian Sleeper services. This will continue once the new Sleeper carriages are introduced later this year, streamlining processes and simplifying logistics by providing Serco and GBRf a one-stop shop for maintenance of the entire train. 
It is important the Caledonian Sleeper services are well maintained so that guests can continue to enjoy a highly reliable service and all the benefits the trains offer. Our new contract with GBRf will mean we are responsible for the entire train, delivering seamless maintenance of both locomotives and coaches. It also secures important jobs at our Wembley depot, which is a key train care centre in Alstoms UK network. said Nick Crossfield, Managing Director, Alstom UK & Ireland. 
John Smith, Managing Director of GBRf commented: The new Caledonian Sleeper service will be a world class journey experience, and the performance of the locomotives is clearly of the highest importance to delivering this service for passengers. We are delighted Alstom will be maintaining the fleet and supporting the delivery of this service. 
David Simpson, Caledonian Sleepers Production and Safety Director, said We welcome this positive news which sees our key partners Alstom and GBRf working even closer together to help us provide a high quality service for our guests. Our service will be transformed later this year with the introduction of a new fleet of sleeper coaches, and this will help to deliver the highest standards of maintenance on our locomotives and coaches.