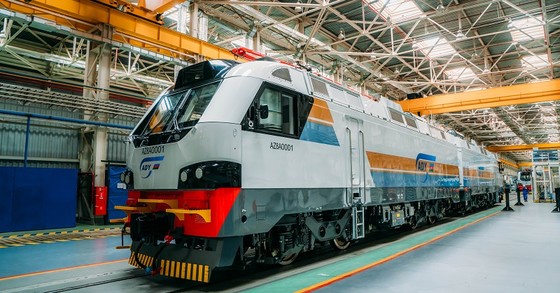 Alstom presents first freight locomotive for Azerbaijan
Press Contacts
Visit our media section and follow the link "Press contacts"
20180627---Prima T8_Exterior_3---800x320.jpg
Alstom today presented the first Prima T8 AZ8A electric freight locomotive for Azerbaijan Railways (ADY). The event took place at Alstoms site in Astana, Kazakhstan, where 40 such locomotives are being manufactured by Alstom joint venture EKZ. 
The first AZ8A forms part of a 2014 contract awarded to EKZ by ADY for a total 50 locomotives, including ten Prima M4 AZ4A passenger locomotives. 
Today we are very proud to present the result of strong collaboration between Alstom and ADY: the very first freight locomotive produced for Azerbaijan at our plant in Kazakhstan. We are pleased that this locomotive will be part of the development of the transit link between the Caspian and Black Seas, Russia and Iran an intersection where Azerbaijan, with its 3,000 kilometres of line, plays a key role, said Bernard Peille, Alstom Managing Director for the Western and Central Asia Cluster. 
The AZ8A is a Prima T8 heavy freight locomotive developed for Azerbaijan. It is based on the KZ8A locomotives currently in service in Kazakhstan and ADYs specific technical requirements, and is compliant with GOST[1] standards and specifications. 
With its eight axles, Prima T8 is one of the most powerful electric locomotives in the world. This model is a two-section freight locomotive capable of towing up to 9,000 tons and running at 120 km/h, with installed continuous power of 8.8 Megawatts. The AZ8A is designed to operate in temperatures ranging from -25°C to 50°C. It requires minimum maintenance and provides high reliability levels and low lifecycle costs thanks to its modular design. 
EKZ, a joint venture between Alstom and Transmashholding (TMH)[2], employs 420 people and is working on supplying and maintaining the Prima electric locomotives ordered by KTZ, Kazakhstans national railway company, for 2020. Today, 48 KZ8A freight locomotives and 20 KZ4AT passenger locomotives are already in commercial operation on Kazakhstans rail lines. 
Alstom is present in Kazakhstan with more than 600 people, two joint ventures and two facilities, EKZ in Astana for locomotive manufacturing and maintenance, and KEP in Almaty for the production of point machines. Alstom is the only manufacturer of electric locomotives and point machines in the Central Asian and Caucasian region and a major contributor to the revitalisation of its rail industry and the development of its economy.
[1] GOST: Commonwealth of Independent States (CIS) technical certification organisation
[2] EKZ: Alstom 75%, TMH 25%