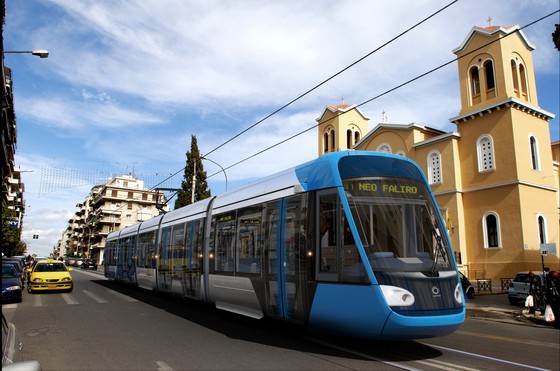 Alstom to supply 25 Citadis X05 trams for Athens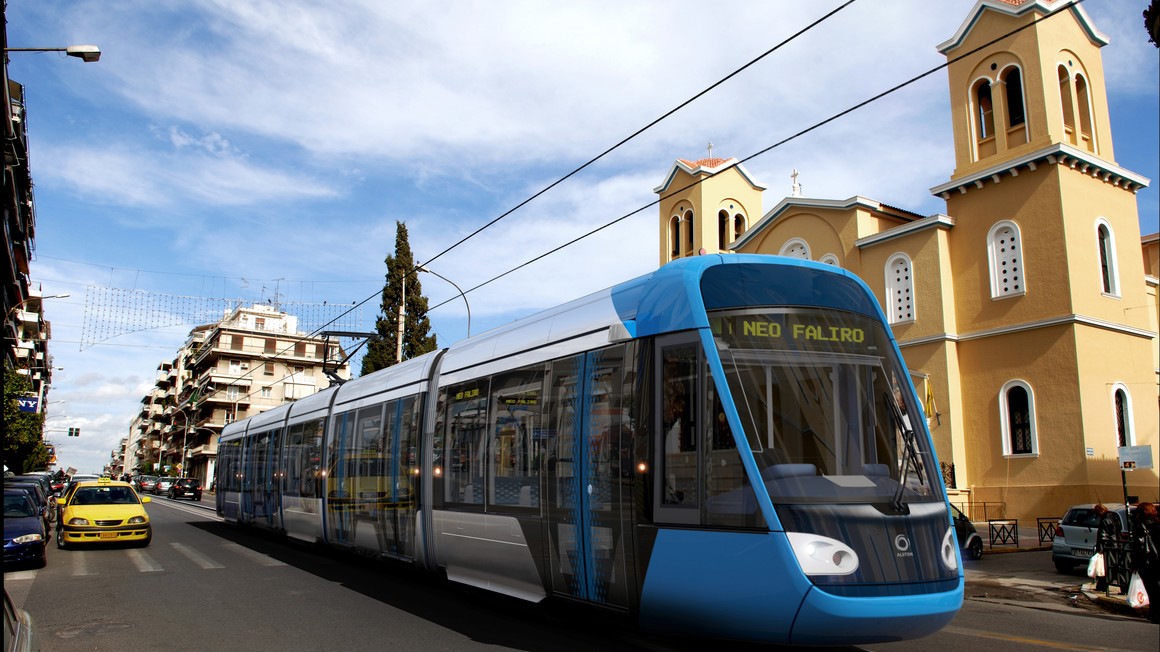 A first tram contract in Greece worth over €50 million
July 2018 – Alstom has signed a contract worth over €50 million with Attiko Metro, the urban transport authority of Athens, Greece, for the supply of 25 Citadis X05 trams. The trams will run on Athens existing tramway network, as well as on any planned extensions. Deliveries are expected in the year 2020.
In addition to the manufacturing and supply of the trams, Alstom will also provide the on-site testing, training and warranty services, as well as spare parts for the trams. These 25 trams will be Alstom's first trams sold in Greece, after the company provided 28 metro trains in early 2000 for the main Athens Metro project.
The Citadis X05 trams for Athens offer superior passenger experience, with 20% more glass surfaces, LEDs for soft, homogeneous lighting, large individual seats, and travel information on large screens via a telematic system. The five-car trams will be 33 metres long, with a maximum capacity of 294 passengers. Double-doors along the entire length of the tram ensure enhanced accessibility.
"Alstom is proud to bring its latest generation of tram to Athens. By providing reliable and modern rolling stock, we commit to continue supporting the development of urban transport in Athens, to further increase the capacity and availability of the existing lines and their extensions. This new contract demonstrates Alstom's will to actively contribute to the efforts for extensions, improvement and upgrading of all the fixed track network in the whole of Greece," said Stavros Vlachos, Managing Director Alstom Greece.
More than 2,500 trams from the Citadis range have been sold in over 50 cities worldwide. The 2,000 trams already in operation have covered over 1 billion kilometres and transported nearly 9 billion passengers since the first tram entered service in 2000.
As the latest addition to the Citadis range, the Citadis X05 boasts a number of new technologies, including permanent magnet motors, as well as improved HVAC and auxiliary management, which together reduce its energy consumption by 25%. Simplified sub-system integration and maintenance decrease lifecycle costs, while the tram is 97% recyclable. To date, Citadis X05 has been sold in Sydney, Paris, Nice, Avignon, Caen, Kaohsiung and now Athens.
Having been present in Greece for 40 years, Alstom is a major player in the country's rail transport sector. The company has successfully participated in the biggest infrastructure projects in the country, such as Athens Metro Lines 2&3 (inaugurated in 2000) and their extensions, as well as  the airport connection linking the city centre to the new airport in Spata (in commercial operation since 2004). In addition, Alstom has implemented various signalling, electrification, infrastructure and railway and metro services projects.