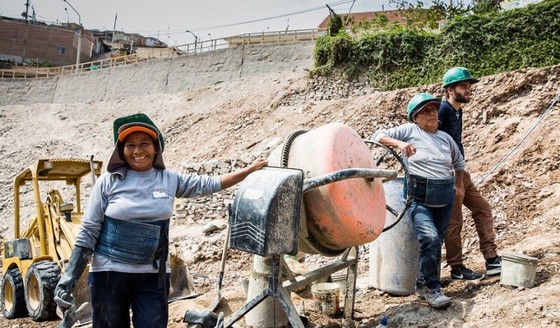 La Ensenada Project from Mano a Mano, NGO supported by Alstom Foundation, receives Inspiring Practice Award by UN Habitat
Press releases and news
09 Jul 2018
La Ensenada Project from Mano a Mano, NGO supported by Alstom Foundation, receives Inspiring Practice Award by UN Habitat
Main Press Contacts (Alstom Headquarters)
Visit our media section and follow the "Press contacts" link to find local press contacts at country level
20180710---Proyecto La Ensenada---800x320.jpg
La Ensenada Project, developed by Mano a Mano NGO and supported by the Alstom Foundation, has received the Innovative Practice Award for their Housing at the Center of the New Urban Agenda project, which aims to strengthen sustainable housing and the empowerment of women in the region. This prize was awarded during the Urban Housing Practitioners Hub Forum, organized by UN Habitat, Cities Alliance, and Habitat for Humanity, which took place in Santo Domingo, Dominican Republic. 
Lima is a city vulnerable to climate change, being exposed to earthquakes and the El Niño meteorological phenomenon. Moreover, 70% of the city is built informally, which makes it even more susceptible to natural disasters. The Mano a Mano project takes place in the town of Ensenada, located amongst the slopes of the desert hills, a suburb of 36 communities and 40,000 inhabitants. The majority of the houses are located in dangerous, geographically unstable zones, facing several socio-economic challenges. The project is focused on urbanizing the area and improving the living conditions of the people of La Ensenada by ensuring professional training for women in the domain of construction[1]. 
Alstom Foundation has been supporting this project for over 3 years, in which a group of 20 women mainly single mothers in situations of extreme poverty have been trained to work as builders. With these new skills, women built environmentally-friendly retaining walls, community gardens and public spaces that have improved the living conditions of their children and of their community. In addition, approximately 200 children participated in the construction of the two parks through gardening workshops. 
We are very thankful for the support of our partner, the Alstom Foundation, in achieving this great success on the sustainable housing initiative in Peru. We hope we can keep on working together to continue aiding the communities in which we are present to improve their quality of life, expressed Marion Verdière from Mano a Mano. 
The Alstom Foundation reaffirms its commitment with the projects being developed across the world, in the countries and regions in which Alstom is present with its sustainable mobility solutions. It is an absolute pleasure to have sponsored, and to continue collaborating with Mano a Mano as a long-term ally in social projects as beneficial as this initiative, said Barry Howe, President of Alstom Foundation worldwide. 
This UHPH Forum aims at identifying, documenting, disseminating and exchanging projects that promote adequate housing as a driving force of change for sustainable urban development in Latin America and the Caribbean, framed within the New Urban Agenda and the Sustainable Development Goals Agenda. These contests take place periodically, according to the specific demand before the Housing and Habitat Forums, which take place bi-annually. 
Since its creation, the Alstom Foundation has supported a total of 168 projects in 52 countries[2]. With a budget of one million euros per year, it supports, and finances projects proposed by company´s employees, together with local partners and non-profit organizations, to develop initiatives aimed at improving the living conditions of communities located near Alstom facilities and project sites around the world. Previous Alstom Foundation projects have addressed issues such as economic and social development, access to energy and water, environmental protection and access to transportation. 
To know more about Alstom Foundation, access www.alstomfoundation.com
[1]  Proyecto: Mejorar las condiciones de vida de los habitantes en una zona urbano marginal del cono norte de Lima, Urban Housing Practitioners Hub https://www.uhph.org/es/concurso?op=3
[2] Alstom Foundation  https://tmblr.co/Zy1I3x2UcgAdT