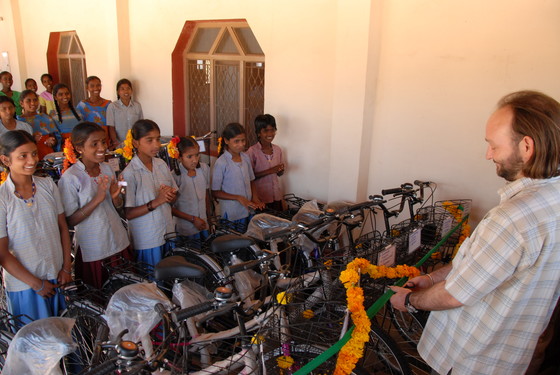 Alstom Foundation to support 2 projects from Spain on environmental protection and education
Press releases and news
24 Oct 2019
Alstom Foundation to support 2 projects from Spain on environmental protection and education
2 projects from Spain on environmental protection and education
24 October 2019 – The Alstom Corporate Foundation has announced its final selection of projects for the 2019 cycle. With a total of 158 projects having been submitted, Alstom employees have once again demonstrated their enthusiasm for philanthropy and for supporting local communities.
Among the projects, the Foundation has selected two projects from Spain promoted by Alstom employees that will focus on environmental protection and access to education, in collaboration with Vivo Sano and Fundacion Vicente Ferrer respectively. 
"For more than a decade, the Alstom Foundation has been developing projects worldwide thanks to the collaboration of employees. Alstom is committed with supporting inclusion, opportunities improvement and sustainable development" explains Antonio Moreno, Alstom in Spain Managing Director.
One of the projects in which Alstom will work in Spain is the so-called "Plastic Beings" (Seres Plásticos). In collaboration with the Vivo Sano Foundation, this initiative seeks to raise awareness about the reduction of plastic waste and the potential effects that plastic may cause on health. The project, which will be developed in Madrid and Barcelona, includes training workshops (for children, teachers and Alstom employees), recreational activities and waste collection workshops, both on the Mediterranean coast and on the Manzanares River.
The Foundation will also promote a project of the Vicente Ferrer Foundation in India, which aims to facilitate access to secondary education to 899 young people in the Anantapur district, through the provision of bicycles. With this initiative, it is guaranteed that these youngsters from rural communities and disadvantaged populations, aged between 11 and 16, can attend school without having to walk long distances. The project includes not only the provision of bicycles, but also training for their maintenance and better awareness about the need of schooling.
Established in 2007, the Alstom Foundation supports and funds projects proposed by Alstom employees who team up with local NGO partners and not-for-profit organizations to carry out initiatives aimed at improving living conditions in communities located near the Groups facilities and project sites around the world. The Foundation's projects focus on four axes: Mobility, Environmental Protection, Energy & Water, and Socio-Economic Development.
Discover more information about the projects at Alstom Foundation website.