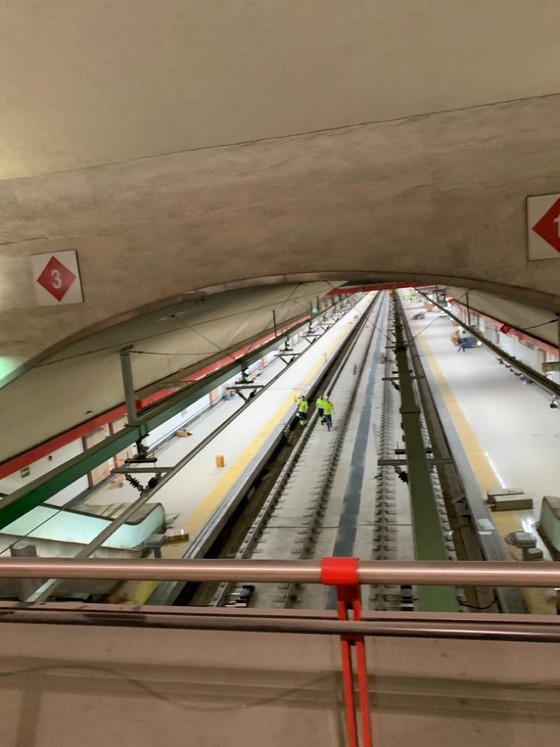 Alstom completes Recoletos Tunnel Project in record time
Press contacts - Corporate
Signalling renewal to improve network reliability and passengers comfort 
13 November 2019 – Alstom has completed, the record time of five months, the project to modernize the signalling of the Recoletos Tunnel, in the section of the tunnel between Atocha and Chamartín, in Madrid, Spain. The project has included the complete renovation of the signalling and protection systems (ASFA Digital), the installation of new fixed communications systems, as well as the coordination and synchronization with the other works being carried out in the infrastructure at the same time (roads and catenary).
Thanks to this comprehensive reform, the reliability of the line and its facilities will be improved, which will result in a higher quality of the service, especially in Madrid suburban network. In addition, it will ease and improve the infrastructure maintenance works, while passengers' comfort will be increased. At the same time, security measures of the tunnel will be reinforced, facilitating evacuation, if necessary.
"The Recoletos Tunnel project has been a real challenge, due to the short deadlines and system complexity. The signalling leadership and experience of Alstom teams in Spain have allow us to successfully achieve our commitment with the client. To reach this goal, a team of more than 140 people from different departments and expertise areas has been coordinated, working 24 hours a day, seven days a week, with alternate shifts", highlights Antonio Moreno, Managing Director of Alstom Spain.
Over seven kilometres in length, the Recoletos Tunnel is a key infrastructure for the Spanish railway network. This is the tunnel that supports more traffic in the entire network, with about 3,290 weekly circulations (98% are suburban trains). Last June, Adif, Spanish Railway Infrastructure Administrator, started the works for its comprehensive remodeling, including the signalling renewal, track replacement and new catenaries installation.
Alstom was awarded with the part of the project in charge of the signalling renewal between the Atocha Cercanías and Chamartín stations, including new interlocks for Nuevos Ministerios and Chamartín train stations, the installation of digital ASFA balises and other infrastructure equipment that will allow to increase the security and the number of circulations in the network.
In addition to the signalling, Alstom teams have renewed and relocated the telecommunications wiring, replaced the cabin equipment of the contiguous stations with new electronic interlocks (Nuevos Ministerios) and made the necessary blockages with the collateral stations (Atocha and Chamartín), to adapt the signalling of these stations to the new one installed in the tunnel.
Recoletos tunnel, with more than 7 kilometres length, links the Atocha and Chamartin main stations through the intermediate stations of Recoletos and Nuevos Ministerios. This infrastructure, which serves the C1, C2, C7, C8 and C10 suburban lines, as well as medium and long-distance trains, supports the largest number of circulations of the entire Spanish railway network, with 470 trains and 200,000 daily passengers This strategic tunnel,  that vertebrates the north and south of Madrid, was put into service in 1967.