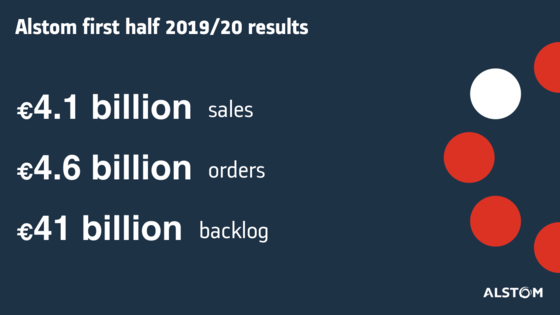 Alstom first half 2019/20 results
Positive commercial momentum with €4.6 billion orders, leading to a backlog of €41.3 billion

Sales reaching €4.1 billion, at 3% growth (2% organic)

Continuous improvement of adjusted EBIT margin at 7.7%

Alstom in Motion outlook confirmed
6 November 2019 – Between 1 April 2019 and 30 September 2019, Alstom booked €4.6 billion of orders leading to a new record-breaking backlog of €41.3 billion. Sales reached €4.1 billion. The book-to-bill was strong at 1.1. The adjusted EBIT increased to €319 million leading to an adjusted EBIT margin of 7.7%. Net income (from continued operations, group share) amounted to €213 million. During the first half of fiscal year 2019/20, free cash flow amounted to €(19) million.
Key figures
 

Half-year ended

30 September 2018 [1]

Half-year ended

30 September 2019

% change

reported

% change

organic

Actual figures

 

 

 

 

 

Orders backlog

38,113

41,330

8%

7%

 

Orders received

7,129

4,618

(35)%

(36)%

 

Sales

4,010

4,140

3%

2%

 

Adjusted EBIT [2]

303

319

5%

 

 

Adjusted EBIT margin [2]

7.5%

7.7%

 

 

 

Net income from continued operations [4], group share

318 [3]

213

 

 

 

 

Free cash flow

172

(19)

 

 

 

 
 
 
 
 
 
 
  [1] Previous year figures have not been restated to reflect the application of IFRS 16
  [2] aEBIT adjusted for CASCO contribution in both periods
  [3] Including impact linked to GE Energy JV put option valuation for €100m
  [4] Net income including discontinued operations provided in annex
"This first half, Alstom continued to achieve a high level of order intake, including emblematic contracts such as the maintenance of Santiago metro, the renewal of Barcelona metro and CDG Express in France, as well as the signalling system for Paris-Lyon high-speed line. The continuous improvement in our operational performance demonstrates the Group's focus on profitable growth. Our new AiM strategy is now being fully deployed within the Group." said Henri Poupart-Lafarge, Alstom Chairman and Chief Executive Officer.
***
Strategic and business update
This half year 2019/20 is the first semester of the Alstom in Motion strategy-(AiM) announced by Alstom on June 24 2019. The Group is already progressing on the AiM priorities:
1. Growth by offering greater value to our customers
The Group booked €4,618 million orders in the first half of fiscal year 2019/20. This compares to the exceptional performance of €7,129 million orders over the same period last year which included "TGV du Futur" and Montreal metro orders totalling €4.3 billion.
Alstom was awarded projects mainly in Europe for Rolling Stock and Services, including orders for regional trains, CDG Express and additional very high speed trains in France, maintenance in southern Europe, metro cars for Barcelona in Spain, regional trains in Netherlands, hydrogen trains in Germany with maintenance associated. Alstom has also been awarded the maintenance of the lines 2 and 4 of the metro of Santiago in Chile. In Signalling, commercial successes include the supply of ERTMS[1] to the Paris-Lyon high speed line.
The backlog reached a new record high and amounted to €41,330 million on 30 September 2019, providing strong visibility on future sales.
In the first half of fiscal year 2019/20, Alstom's total sales reached €4,140 million, up 3% (2% organically). The book-to-bill was strong at 1.1.
Rolling stock sales reached €1,898 million (+9% organic) with, notably, deliveries of regional trains in Europe and the ramp-up of Amtrak and PRASA projects. Signalling sales increased at €723 million (+12% organic) mainly benefiting from activity in Asia Pacific and Americas. Services sales reached €718 million with the West coast maintenance contract in the UK. Systems sales decreased at €801 million with an expected ramp-down on Lusail and Riyadh systems projects. Latin America sales lowered also this half year.
2. Innovation in smarter and greener mobility solutions
Alstom sustained its level of research and development (gross costs) at €192 million, i.e. 4.6% of sales, in first half of 2019/20.
Alstom received significant green mobility orders with its two main products. The Coradia iLint hydrogen train recorded a strong commercial momentum in Germany with now two large contracts for a total of 41 trains. In France, SNCF is working with Alstom to deliver 15  regional hydrogen trains within the two  coming years. The new Aptis electric buses have been already sold to five French cities (Paris, La Rochelle, Toulon, Strasbourg and Grenoble). Paris represented the largest tender for electric buses in Europe to date.
In September 2019, Alstom has been awarded a contract to supply an ERTMS Level 2 system, the most reliable and robust system to date, on over 500 kilometres of the Paris-Lyon high speed line. Paris-Lyon is the busiest route in Europe with 240 trains per day on the main section. Alstom's ATLAS signalling system will enable 16 trains to operate in each direction during peak hours, compared with 13 today, increasing capacity significantly, as well as improving reliability and safety.
3. Efficiency powered by digital
Alstom delivered an adjusted EBIT[2] of €319 million corresponding to a 7.7% margin in first half 2019/20, compared to €303 million corresponding to a 7.5% margin the previous year. This improvement was driven by a volume increase and operational efficiency.
All the AiM efficiency programmes have been fully launched. Among them, Alstom is now in the acceleration phase of the Smart 0perations 4.0 initiative which is the digitalization of the entire operational chain of Alstom, from supply chain to manufacturing, also covering activities at client sites such as maintenance. When fully deployed, this programme will have significant positive impact: reduction in design and manufacturing times, production flexibility, asset optimization, better work environment, higher traceability.
Net Income from continued operations reached €213 million compared to €318 million the previous year which included several one-off items, in particular €100m linked to the General Electric joint venture transaction.
Earnings per share from continued operations reached €0.95 in first half 2019/20.
4. One Alstom team, agile, inclusive and responsible
Alstom is focused on the implementation of its Alstom in Motion initiatives related to corporate social responsibility, and has been attributed three important recognitions this first half:
In June 2019, after becoming the first French company to obtain the AFAQ ISO 37001 Anti-bribery certification for France and Europe in 2017, followed by Asia-Pacific in 2018, Alstom has obtained certification for its countries of operation in the regions of North America, Middle-East & Africa and Latin America.
In September 2019, Alstom has been included in the Dow Jones Sustainability Indices (DJSI), World and Europe for the ninth consecutive year, and is now in the 4th percentile of the ranking, attesting to its leading position in sustainable business practices.
Alstom in France is the first railway manufacturer to obtain "RSE engage" label level 3 on ISO 26000 from AFNOR.
***
Solid balance sheet
During the first half of fiscal year 2019/20, the Group free cash flow was negative at €(19) million, impacted by anticipated inventories increase resulting of the ramp up of large Rolling Stock projects.
The Group had a gross cash in hand of €1,826 million at the end of September 2019 and a fully undrawn credit line of €400 million. Alstom bond debt amounted to €596 million as end of September 2019. In July 2019, Alstom reimbursed at maturity a €283 million bond.
Alstom net cash amounted to €991 million on 30 September 2019, compared to €2,325 million on 31 March 2019. Last, equity reached €3,135 million at 30 September 2019, compared to €4,159 million on 31 March 2019, in particular as a result of the dividend distribution in July 2019.
In October 2019, Alstom has successfully carried out the issuance of senior unsecured Eurobonds for a total of €700 million, at excellent financing conditions. The bonds have a seven year maturity and a fixed coupon of 0.25%, payable annually. The order book was more than three times oversubscribed.
IFRS 16
The Group adopted IFRS 16 "Leases" on 1 April 2019, according to the simplified retrospective approach, without restatement of prior period comparatives. On April 1, 2019 impact of IFRS 16 first time application on lease obligations amounted to €388 million. Lease obligations are not included in non GAAP net cash/(debt) Group definition.
***
Outlook
The Alstom outlook is provided at constant perimeter and exchange rates. It is set in accordance with the IFRS 15 and 16 norms.
The 2019/20 fiscal year will be a year of stabilisation of growth after a 2018/19 fiscal year with an exceptional sales and profitability growth. For 2019/20 fiscal year, the business cycle with the finalisation of major systems contracts and the evolution of large Rolling stock projects will lead to a sales and margin growth lower than the average objectives set in the context of AiM, and to a working capital evolution impacting the generation of free cash flow[3].
Up to March 2023, Alstom targets an average annual growth rate of sales around 5% over the period 2019/20 – 2022/23, an adjusted EBIT margin[4] to reach around 9% in 2022/23, a conversion from net income[5] to free cash flow above 80% by 2022/233 and a dividend policy with a pay-out ratio between 25% and 35%.
Furthermore, Alstom will conduct a disciplined investment and external growth transactions policy to support its development and to create value.
*
The management report and the consolidated financial statements, as approved by the Board of Directors, in its meeting held on 5 November 2019, are available on Alstom's website at www.alstom.com. The accounts have been reviewed by the auditors.
[1] European Rail Traffic Management System
[2] aEBIT adjusted for CASCO contribution in both periods
[3] The free cash flow generation is subject to usual short-term volatility linked to customers down payments and milestone payments from customers
[4] Including the share of net income of the joint venture with CASCO held by Alstom at 49%
[5] Net profit from continuing operations attributable to equity holders of the parent
Investor relations
Resources related to Alstom's financial & share information, financial calendar, investors presentations, regulated information and shareholder documentation.
Read more