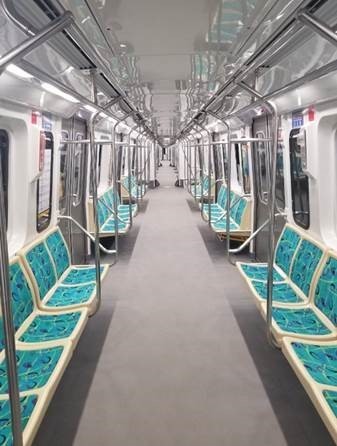 Alstom provides its series 100 renewed cars to Line E of Buenos Aires city metro
Press releases and news
13 Nov 2019
Alstom provides its series 100 renewed cars to Line E of Buenos Aires city metro
13 November 2019 – Alstom will provide new cars for service to the enlarged Line E of Buenos Aires City metro, which represent a notable improvement for the metro cars of this line and an increase in passengers comfort.
The modernized cars of the series 100 produced by Alstom are incorporated into this line in which around more than 100,000 passengers travel per day, from the Plaza de los Virreyes station to Retiro in the centre of Buenos Aires. This modernization is in addition to the installation and validation of the signalling system in the three new stations of the E Line, completed successfully at the beginning of June.
Those metro cars are subject to a general review after 15 years to ensure their safety and efficiency. This "half-life" maintenance includes the disassembly, polishing, cleaning, profiling and painting or absolute replacement of all cars pieces and parts that are sent to Los Hornos workshop, in Las Plata. In that, full repair and maintenance's are done by fifty professionals and workers, mostly from the same city, who works daily in the renovation of the cars that are part of the Buenos Aires metro network.
"The modernization of these series 100 cars for Line E is another proof of the enormous efforts that Alstom makes daily in its factory of Los Hornos to improve the travel´s quality of the thousands of users of the Buenos Aires city metro. To this we must add the activities that we have carried out recently in the expansion of Line E, with the incorporation of our state-of-the-art signalling system. We are proud of our customer's trust in our experience, and we continue to bet on transforming the Argentine transport system" says Ernesto Garberoglio, General Director of Alstom Argentina.
Alstom has been present in Argentina since 1993, maintaining its presence over the years, which demonstrates a strong commitment to the country and its inhabitants. Dedicated to the transport sector on rails, it provides products and services to the metro operator of the City of Buenos Aires (Metrovías) and to the owner of the metro infrastructure (SBASE). It also has projects with Argentine Railways Infrastructure (formerly ADIFSE) and with the Railway Operator State's Society (SOFSE) in the implementation of technological solutions for passenger and commercial transport.