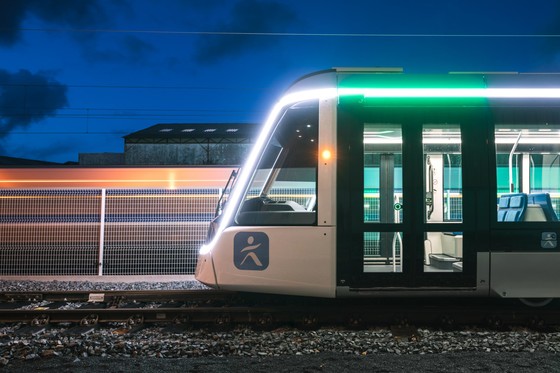 Alstom's first Citadis tram for the Tram T9 line inaugurated by Île-de-France representatives
Press releases and news
03 Dec 2019
Alstom's first Citadis tram for the Tram T9 line inaugurated by Île-de-France representatives
3 December 2019 – The first Citadis tram for the Tram T9 line, designed and manufactured at Alstom's La Rochelle site, was inaugurated today in Orly by Valérie Pécresse, President of the Île-de-France region and President of Île-de-France Mobilités, Christian Favier, President of the Departmental Council of Val-de-Marne, Anne Hidalgo, Mayor of Paris, and Michel Lepêtre, President of the Grand-Orly Seine Bièvre EPT (Établissement Public Territorial).
In November 2016, Île-de-France Mobilités chose Alstom to supply it with 22 Citadis X05 trams. The trams will enter into operation in December 2020, on the Tram T9 line, which connects Porte de Choisy to the town of Orly. Delivery of the trams by Alstom began in November 2019 and will be completed in October 2020 with entry into commercial service scheduled for December 2020.
"Alstom and its teams are proud to be present at the inauguration of the first Citadis trams for line T9. With their particularly innovative design, we have total confidence in the ability of these new trams to meet the high standards of comfort and reliability expected by the residents of Paris and Île-de-France," said Jean-Baptiste Eyméoud, President of Alstom in France.
45 metres long, the Citadis X05 tram for line T9 can carry up to 314 passengers. Special attention has been paid to the design of this new tram, created in partnership between Alstom's Design&Styling teams and the agency Design Saguez & Partners[1]. It has 8 double doors per side as well as enlarged, well-lit interior circulation that facilitates movement and increases the passenger exchange rate[2] by 20%. It features 45% glass surfaces, 100% LED lighting, 8 extra-wide multimedia screens for the dynamic route map, USB sockets and bench seats. The new tram's design is based on signature lighting throughout the entire vehicle, both inside and out, notably for better visualisation of the opening and closing of the doors. These innovations provide a high level of comfort and an enhanced travel experience.
The tram is also energy efficient thanks to improved energy consumption linked to the traction and auxiliaries (100% lighting and air conditioning offering respectively -25% and -15% of energy consumption). The overall cost of preventive maintenance has been reduced by 18%. The materials are 99% recoverable.
Eight of Alstom's 13 sites in France are involved in the manufacture of these trams: La Rochelle for the design and assembly, Ornans for the engines, Le Creusot for the bogies, Tarbes for the modules and equipment, Valenciennes for the interior fittings, Villeurbanne for the on-board computerised systems, Aix-en-Provence for the tachometric control units and Saint-Ouen for the design.
[1] http://saguez-and-partners.com/
[2] Exchange rate: ratio that measures, for the side of a tram, the number of times the passenger doors have been opened and the total length of the passenger area.