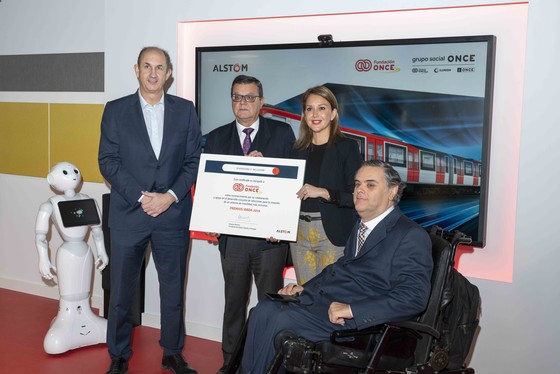 Fundación ONCE has been awarded as best Diversity & Inclusion association within Alstom
Press releases and news
03 Dec 2019
Fundación ONCE has been awarded as best Diversity & Inclusion association within Alstom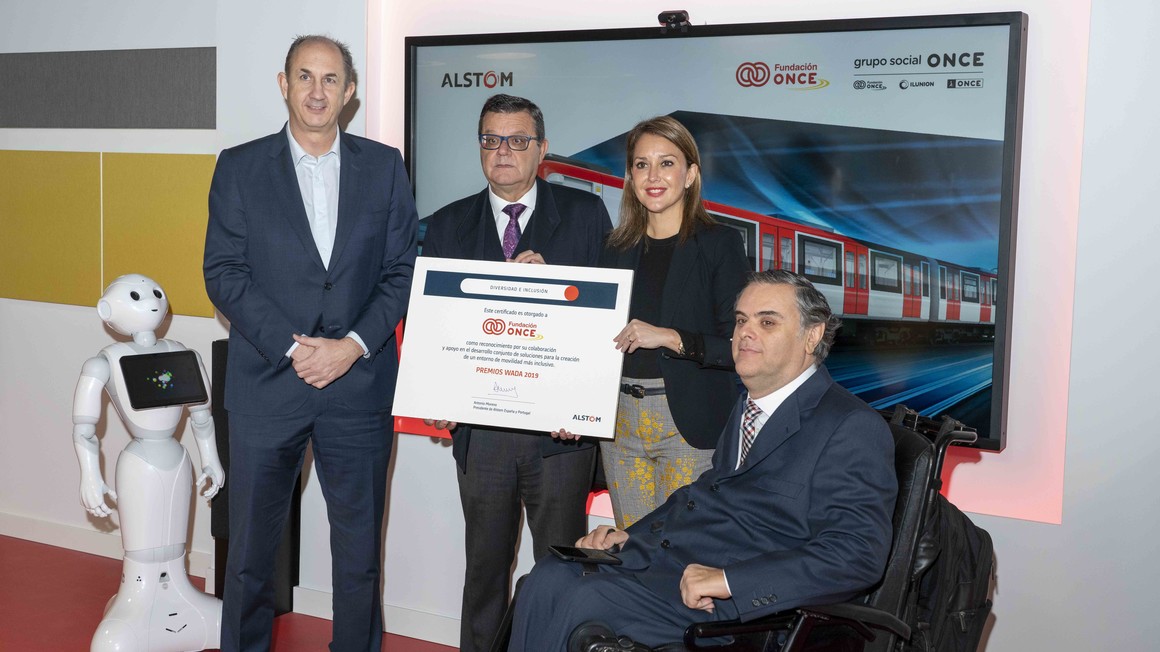 Alstom is engaged in the International Day of Persons with Disabilities
3 December 2019 – Alstom has awarded the Fundación ONCE as best association for initiatives in ​Diversity and Inclusion. It is a recognition for the joint work being made by Fundación ONCE and Alstom in Spain to promote universal design in mobility systems. The Alstom annual WADA awards (Wada = We're All Differently Able) have highlighted the collaboration between Alstom and Fundación ONCE for the design of 100% accessible solutions as well as the inclusion in the work environment.
With this award, Alstom's group recognizes the work done by Alstom Spain with Fundación ONCE to put all types of passengers at the center of our mobility solutions. We focus on Universal Design, which means designing solutions accessible and user-friendly for the entire population. "Inclusion is a fundamental pillar in our company and one of our key values. We design inclusive mobility solutions in a work environment and culture where all differences are embraced, respected and leveraged without any bias", explains Antonio Moreno, Alstom Managing Director in Spain.
Fundación ONCE and Alstom signed a collaboration agreement in February 2019 to improve universal accessibility in transport and thus the full inclusion of people with disabilities. Its objective is to make collective transport accessible and comfortable for all people.
From this perspective, both entities commit to promote accessibility in design projects and create solutions that improve usability and comfort in transport for people with disabilities and seniors.
Since the signing of the agreement, Fundación ONCE already worked with Alstom team to develop solutions according to mobility needs in terms of accessibility. To date, the entities have jointly worked on two rolling stock projects (metros and suburban), related to and Alstom will shortly present two innovations on this topic design.
Alstom and Fundación ONCE are also working together for the promotion of training and employment, with the help of Inserta, an entity expert in the development of training, employment and consulting programs aimed at enhancing the employment of people with disabilities.