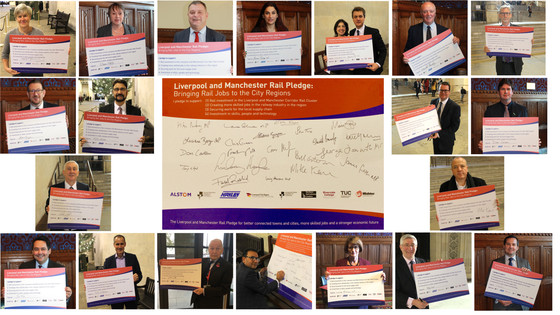 Members of Parliament pledge to support investment in rail for Liverpool and Manchester corridor
Press releases and news
20 Feb 2019
Members of Parliament pledge to support investment in rail for Liverpool and Manchester corridor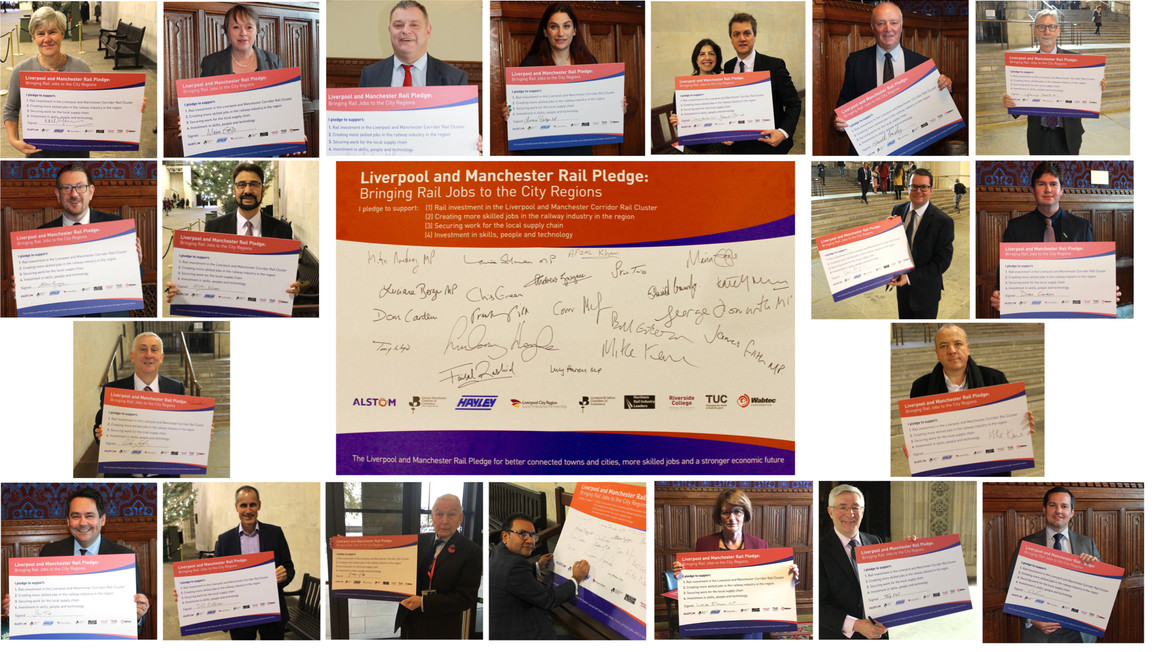 20 February 2019 – More than twenty cross-party members of Parliament from across the Liverpool and Manchester city regions have signed a pledge to support rail investment in the North West.
MPs from the Liverpool and Manchester city regions pledged to support rail investment, more skilled jobs in the railway industry, work for local supply chains, and investment in skills, people and technology. What has united all these politicians of varying political inclinations is an interest in the vital role played by the rail industry in the north west.
The pledge, which was coordinated by Alstom, whose world class centre for train modernisation is in Widnes, has been supported by a group of local business and union groups. These include: Greater Manchester Chamber of Commerce, Hayley Group, Liverpool City Region LEP, Liverpool Chamber of Commerce, Northern Rail Industry Leaders, Riverside College, the TUC, Wabtec, and the Institute of Railway Research at Huddersfield University.
Mike Hulme, Customer Director at Alstom said: "The idea behind the pledge was to build a coalition of support in Parliament for rail investment in the region. There is such a great potential for the rail industry to be a force in the Liverpool and Manchester city regions, and encouraging local MPs to pledge to support that potential will open the door for investment and jobs."
The region has a huge amount of untapped potential in the rail industry, being the site of a key rail cluster. With the right investment, the Liverpool and Manchester corridor can be a powerhouse for jobs and innovation in rail, with groups like Widnes-based Alstom working closely with SMEs in the supply chain, unions like the TUC, and education institutions like nearby Riverside College.
The Liverpool & Manchester Rail Pledge
The wording for the pledge is:
I pledge to support:
1.       Rail investment in the Liverpool and Manchester Corridor rail cluster
2.       Creating more skilled jobs in the railway industry in the region
3.       Securing work for the local supply chain
4.       Investment in skills, people and technology
Pledge Partners
The pledge has been supported by a wide group of local businesses and union groups. These are: 
·         Alstom
·         Greater Manchester Chamber of Commerce
·         Hayley Group
·         Liverpool City Region LEP
·         Liverpool Chamber of Commerce
·         Northern Rail Industry Leaders
·         Riverside College
·         TUC
·         Wabtec
·         Institute of Railway Research at Huddersfield University