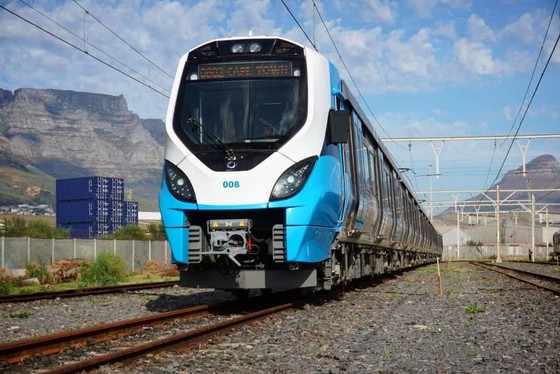 Alstom joint venture Gibela's first trains presented by PRASA in Cape Town, South Africa
Press releases and news
09 Apr 2019
Alstom joint venture Gibela's first trains presented by PRASA in Cape Town, South Africa
9 April 2019 – Alstom is pleased to announce that its South African joint venture (JV) Gibela, has seen two of its X'Trapolis Mega trains successfully revealed by the Passenger Rail Agency of South Africa (PRASA) to the residents of the City of Cape Town, the country's legislative capital. The President of South Africa, Mr Cyril Ramaphosa unveiled the trains at Cape Town Station in front of more than 1,000 guests.
Also present to celebrate this reveal were the South African Minister of Transport, Dr Blade Nzimande and his Deputy, Ms Sindisiwe Chikunga, the city's Premier, Dr Helen Zille, Chairperson of PRASA, Khanyisile Kweyama, acting CEO of PRASA, Dr Nkosinathi Sishi, Group Executive: Strategic Asset Development for PRASA, Piet Sebola, CEO of Gibela, Thierry Darthout, and Alstom Managing Director for Southern Africa, Xavier Boisgontier, along with Gibela's minority shareholders representing Ubumbano Rail and New Africa Rail.
These trains are part of the 600 new, state-of-the-art fleet being built by Gibela for the Passenger Rail Agency of South Africa (PRASA). The first 18 trains, currently operating in Pretoria, north of Johannesburg, were manufactured at Alstom's Lapa factory in Brazil. Gibela's new, modern train manufacturing facility located in Dunnottar (Gauteng Province) has started the production of the first trains made in South Africa by South African people – the first three such trains having been delivered to PRASA between December 2018 and March 2019.  
"Alstom is very pleased to be participating in the country's railway transport revitalization. The success of this project with Gibela positions us as a reliable partner, established for the long-term in South Africa," commented Xavier Boisgontier, Managing Director for Alstom Southern Africa and CEO of Alstom Ubunye. "Indeed, Gibela is consistently receiving recognition through various industry bodies, the latest being from the South African government's Transport Education and Training Authority for excellence in Skills Development and Training."
The Gibela plant, inaugurated last October by the President of South Africa, has been built with the capacity to produce 62 trains a year at peak production (each trainset comprises six cars). Local suppliers involved in the supply chain in line with local content contractual commitments will gain manufacturing expertise which will enable them to compete in global markets, opening up real potential for significant exports and foreign exchange earnings for South Africa. The project will boost the country's economy as it creates jobs, develops new skills, prioritises local economic development and local content and promotes black economic empowerment.