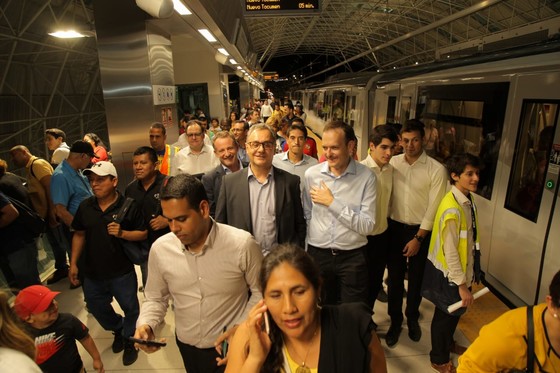 Alstom's innovative solutions for Line 2 of Panama Metro start commercial service
Press releases and news
26 Apr 2019
Alstom's innovative solutions for Line 2 of Panama Metro start commercial service
Download as PDF
Press contacts - Corporate
Press contact - North Latin America
26 April 2019 – Alstom, leader of Grupo de Empresas (GdE), celebrates together with Consorcio Linea 2 (formed by Odebrecht and FCC) the entry into commercial service of Line 2 of Panama Metro. The Group has been in charge of supplying an integrated metro system which includes 21 Metropolis trainsets as well as traction substations including Hesop reversible substation, and Urbalis – Alstom  Communication Based Train Control (CBTC) solution which controls the movement of the trains and enables trains to run at higher frequencies and speeds in total safety.
"We are honored and grateful to be providing an integrated system that both improves the operation of the metro line and reduces the environmental impact. As the commercial service starts, these technologies will allow the residents of Panama to have a reliable, comfortable and environmentally friendly means of transportation in the city", said Ludovic d'Hauthuille, Managing Director of Alstom North Latin America.
In order to optimize energy consumption, the electrical power supply system will be equipped with substations with Hesop technology, the Alstom solution for reversible substations that allows recovering and transferring more than 99% of the energy generated by the braking of the trains. This energy can be reused in the electrical network of the stations for services such as escalators, lighting and ventilation. The Hesop reversible substation is available and operational since 2015, in a wide range of voltage and power configurations. One hundred twenty-four Hesop substations have been installed in various railway networks, including the metros in Milan, Riyadh, London and Dubai, as well as the Sydney and Milan trams.
Additionally, Alstom's CBTC Urbalis consists of a train control system based on radio communication, a proven and reliable signaling technology for metros. The Urbalis solution allows to precisely control the train path to efficiently and safely manage traffic. In the case of Line 2 of the Panama Metro, the system will allow a frequency between trains of only 90 seconds.
The Alstom's CBTC Urbalis train control solution is used in 23 countries, including Mexico, Italy, Singapore and Canada, and has been implemented in 1,500 km of metro lines in operation.
Alstom has been present in Panama since 1957, actively contributing to the development of urban transport in the country since 2010. During this time, Alstom has signed different transport contracts, such as the development, construction and implementation of the Integral Rail System of both Line 1 and 2 of the Panama Metro, the maintenance of Metro Line 1, including an innovative train driving simulator.