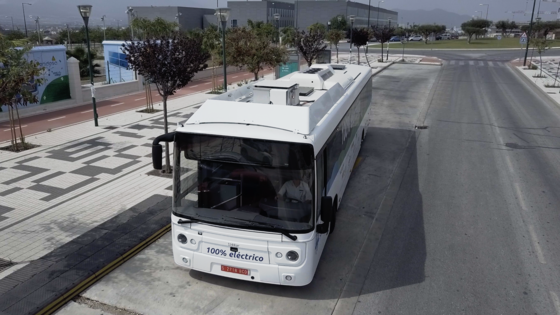 Alstom participates in an innovation project of rapid recharging systems in stops dedicated to electric buses
Press releases and news
20 Sep 2019
Alstom participates in an innovation project of rapid recharging systems in stops dedicated to electric buses
PALOMA project, developed in consortium with Endesa and Mansel, has the goal of integrating an opportunist recharging solution for 100% electric buses.
Madrid, September 2019 - Urban and interurban mobility are part of a global change that do not only affects private vehicles. In that process, companies must provide an innovative vision that shows how the future will be like by looking for prototypes for alternative operations of mobility assets.
This is the meaning of PALOMA (Prototype for ALternative Operation of Mobility Assets), the first global prototype for rapid charging for electric buses.
A project to double buses autonomy
This static charging technology, developed by Alstom, is integrated in the pavement in line terminals, to allow a rapid charging and effectiveness through direct contact. This kind of systems facilitate the integration of chargers in the urban landscape, do not add obstacles to the traffic flow, and improve the autonomy of the bus, which will only need to stop for full recharging at the end of the day.
Due to the characteristics of the project, an advanced monitoring system for the medium and low voltage distribution network has also been implemented, through an automatic transformation center.
The goal of this initiative is to guaranty buses autonomy without affecting passengers' timeouts, with the consequent advance in technological innovation that surrounds electric mobility.
Málaga, testing laboratory for future mobility
Alstom's static recharge technology for trams has served as a base to develop the system employed in PALOMA's project. Its name is SRS (Static Recharging System) and allows the bus to be loaded on the ground by means of collector shoes located in the lower part of the vehicle, and which are activated by telecommunications signals.
The Project is co-financed by the European Union, with FEDER and CDTI funds, Centre for the Technological Industrial Development. Also accounts with Málaga's Council, Ministry of Economy and Competitiveness, University of Malaga and EMT (Municipal Transport Company) of Malaga's support.