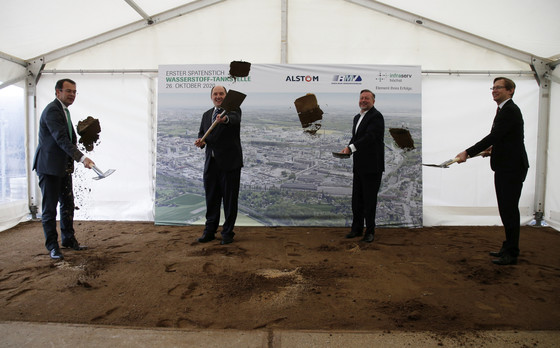 Starting signal for first hydrogen filling station for passenger trains in Hesse
Press releases and news
26 Oct 2020
Starting signal for first hydrogen filling station for passenger trains in Hesse
Ground-breaking ceremony with State Secretary Deutschendorf: Rhine-Main Transport Association (RMV), Alstom and Infraserv Höchst develop hydrogen infrastructure in the Rhine-Main region
When the State Secretary of the Hessian Ministry of Economics, Energy, Transport and Housing puts a personal hand on the construction of a filling station, it must be a very special project. In fact, the filling station that will be built in Industriepark Höchst in the next few months is anything but ordinary: It is the first hydrogen filling station for passenger trains in Hesse and the second worldwide, where the world's largest fuel cell train fleet in passenger traffic will be supplied with hydrogen from December 2022. State Secretary Deutschendorf gave the starting signal for this project on Monday, October 26, together with RMV-Managing Director Prof. Knut Ringat, Dr. Jörg Nikutta, Managing Director of Alstom Germany and Austria, and Dr. Joachim Kreysing, Managing Director of the industrial park operator Infraserv Höchst. Alstom is supplying the fuel cell trains that RMV will use, while Infraserv Höchst, the operator of the industrial park, is building and operating the filling station.
Hesse as a pioneer in environmentally-friendly mobility concepts
"Hesse is a pacemaker on the way to climate- and environmentally friendly mobility, as the Taunusnetz project also demonstrates," said State Secretary Deutschendorf. "In 2022, pollutant-free fuel cell trains will replace the old diesel vehicles there - an electric operation without overhead lines, which could also be an interesting alternative for other regions. I would like to thank RMV and Industriepark Höchst for their courage in realizing this innovative project".
RMV: World record with fuel cell fleet
For the Rhine-Main transport association, the project has a very special significance. "With Alstom's fuel cell trains, we are opening up a new chapter of emission-free mobility at RMV," said RMV-Managing Director Prof. Knut Ringat at the ground-breaking ceremony. "With the 27 vehicles, we are setting a world record: Nowhere else is there such a large fuel cell fleet in local public transport." Prof. Ringat praised the excellent cooperation with the rail vehicle manufacturer Alstom and Infraserv Höchst: "I am delighted that we are able to complete this mammoth project on schedule and on budget." The total order volume is 500 million euros.
Alstom trains: Emisson-free and low-noise through the Taunus 
"Today's groundbreaking ceremony heralds a new era in emission-free rail traffic in the Rhine-Main region. We are delighted that Infraserv will take over the refuelling of our series trains for RMV," said Dr. Jörg Nikutta. Alstom's "Coradia iLint" fuel cell trains, which thanks to a range of up to 1,000 kilometers can travel an entire day on RMV's network, will replace the diesel-powered locomotives ordered by RMV's subsidiary fahma on the lines (RB 11 Frankfurt-Höchst - Bad Soden), RB12 (Frankfurt-Königstein), RB15 (Frankfurt - Bad Homburg - Brandoberndorf) and RB16 (Friedrichsdorf - Friedberg). The world's first passenger train powered by a hydrogen fuel cell runs completely emission-free, is quiet and emits only water vapor and condensation.
Infraserv Höchst: Committed to hydrogen and fuel cell technology 
Infraserv Höchst, the operating company of the 4.6 square kilometer Industriepark Höchst, has been active in hydrogen and fuel cell technology for many years. The first hydrogen filling station for cars was put into operation in 2006. "We are very proud that Infraserv Höchst and Industriepark Höchst can contribute to the further development of this technology of the future," said Dr. Joachim Kreysing, Managing Director of Infraserv Höchst. The chemical industry has traditionally been one of the industrial sectors in Germany that produces innovative technologies. "Even the pressing questions about energy supply and mobility concepts of the future can only be answered by the chemical industry," said Dr. Kreysing.