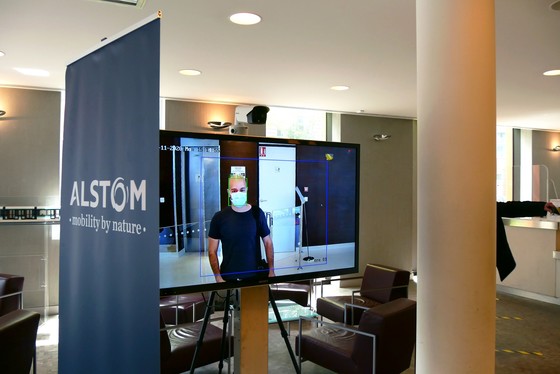 Alstom at forefront of hygiene & safety innovation for transport & mobility in a COVID-19 world
Press releases and news
30 Jun 2020
Alstom at forefront of hygiene & safety innovation for transport & mobility in a COVID-19 world
30 June 2020 – As lockdown restrictions are gradually eased, and people adjust to the new normal, many are asking what the new normal will be for public transport and mobility. Safety and hygiene are at the root of people's concerns when it comes to travel and mobility in a COVID-19 world, with commuters seeking reassurance that their health and wellbeing will be a top priority.
Alstom, a global leader in rail transport and sustainable mobility, has been working to alleviate such concerns, making the most of the lockdown period by investing into speeding up the development of health and wellbeing mobility initiatives. 
A dedicated team of experts at Alstom has brought together their key expertise and resources across all technical domains, while coordinating with internationally recognised authorities and institutions such as health and virology labs, to provide innovative hygiene, health and safety solutions. 
In doing so, the team has been able to present a comprehensive and validated portfolio of solutions based on micro-organism propagation mechanisms and in-depth scientific know-how, to diminish the spread of the virus, both in the air and on surfaces. The portfolio consists of ready-to-action and in-development solutions, which guarantee the following:
to preserve health of passengers and employees

to limit impact on the environment and energy consumption

to maintain equipment reliability
Vincent Prou, Managing Director of Alstom Middle East, explains, "In reaction to the first threats of the COVID 19 pandemic, Alstom has set up a dedicated working group, which has utilised its members' vast expertise and resources on all technical domains impacted by this sanitary crisis. This group has focused not only on health, hygiene and safety solutions for trains, but also passenger density management in transport spaces."
He adds, "In addition to developing innovative solutions designed to protect passengers and restore their confidence, the company has also accelerated the validation of complementary solutions, which are expected to be ready within the coming months. These in-development solutions are focused on significant virucidal improvements (i.e. solutions with the ability to deactivate or destroy viruses)."
"As a company that is steadfast in its commitment to providing sustainable solutions for healthier transportation, Alstom will continue to work alongside its valued customers, supporting them in their mobility challenges and consistently striving for innovative solutions," he concludes. 
Alstom is well established in the Middle East with several key urban projects, including Dubai Tram, the first tramway in the GCC, Dubai Route 2020 Metro, and Riyadh Metro among others. It is also active in passenger transportation, signalling, systems and services.