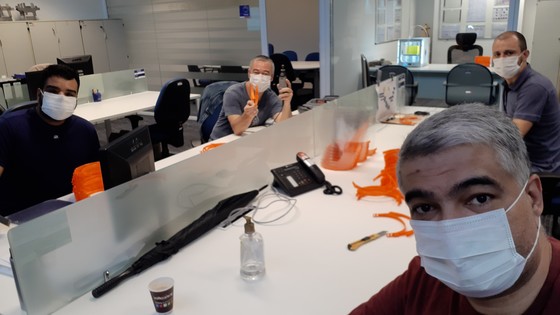 Alstom reinforces actions to fight coronavirus with the manufacture and donation of face shields
Press releases and news
24 Jun 2020
Alstom reinforces actions to fight coronavirus with the manufacture and donation of face shields
June 24, 2020 - Employees of Alstom, a leader in urban mobility solutions and present for 64 years in Brazil, are manufacturing face shields on 3D printers to fight Covid-19. At the company's office in São Paulo, in the Água Branca neighborhood, employees are volunteering to produce about 160 face shields, which are being donated to hospitals and charities. In May and June, 150 units were donated to Hospital e Maternidade Salvalus, in Mooca, east zone of São Paulo.
In three weeks, 100 face shields were produced through the voluntary work of four Alstom employees from São Paulo, which guaranteed batches with 10 pieces produced every 22 hours. The company provided the equipment and supplies for 3D printing, but the main investment was the donation of time and dedication from the team, who worked on the manufacturing process for 220 hours.
"Alstom is proud of how its teams responded to this unprecedented challenge and encourages everyone, inside or outside the company, to contribute in any way they can to help. The printing of face shields in 3D allows greater flexibility in production, since it depends only on raw material, the equipment and the volunteers", says Ricardo Koga, Alstom's Vice President of Human Resources for Latin America.
The headband of the face shields is made of PLA (lactic polyacid), a biodegradable material, that is, not harmful to the environment. The material is widely used for 3D printed parts because of its simple composition and because it is very stable, not warping or suffering from contraction effects during printing. The shield is made of acetate, as recommended by the e-NABLE Brasil website. The initiative to produce face shields on a 3D printer has also taken place in other Alstom units, such as Tarbes and La Rochelle (France), Katowice (Poland), Hornell (USA) and Los Hornos (Argentina).