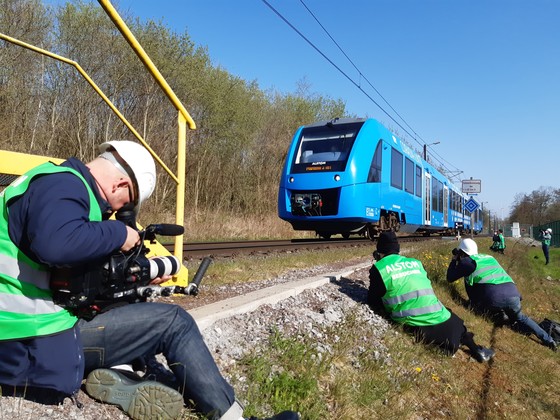 Hydrogen fuel cell technology on rails: Embracing the future
Click play to watch the replay of our webinar. You can adjust the volume directly in the player.
Hydrogen trains offer a clean, reliable and cost efficient alternative for 46% of mainline tracks in the EU that aren't electrified. On April 21, we hosted a webinar on Alstom's hydrogen solutions & ambitions for European rail in Salzgitter, Germany, from our very own Coradia iLint, the world's first hydrogen train. Did you know it has already traveled more than 200.000 kms in passenger service since 2018?
The technology is gaining momentum quickly. We've received follow-up orders in Italy and France, led a pilot project in the UK and ran successful test runs in Austria, the Netherlands and Germany. The webinar was part of the Alstom initiatives within the European Commission's European Year of Rail framework. The live event speakers included Carmen Schwabl of Lower Saxony Transport Authority (LNVG), Henri Poupart-Lafarge, Müslüm Yakisan, Gian Luca Erbacci, Mark Topal, CTO at ÖBB, Marco Alvera', Klaus Bonhoff at Bundesministerium für Verkehr und digitale Infrastruktur, Andreas Frixen, Kay Lottermoser and Marcel Raab.
Thank you to everyone who joined us for the webinar and for embracing the future of rail. Watch the replay of the live event to learn more about our hydrogen train! More information on our Coradia iLint.