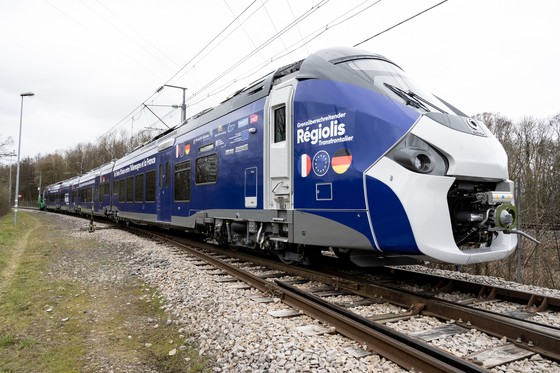 Alstom's first Coradia Polyvalent cross-border regional train begins approval and certification tests
Press releases and news
17 May 2021
Alstom's first Coradia Polyvalent cross-border regional train begins approval and certification tests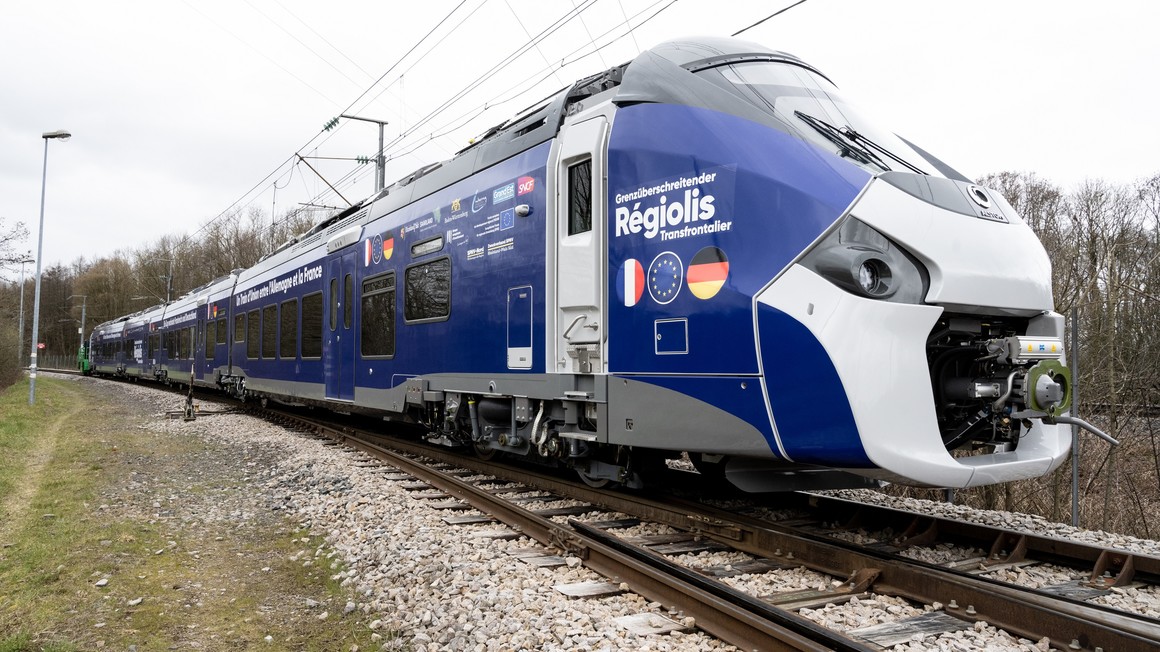 The first pre-production Coradia Polyvalent France-Germany © Alstom / Frédérique Clément
Download as PDF
Press contact - Corporate France & DACH region
Press contact - France Great East
18 May 2021 – The first pre-production Coradia Polyvalent France-Germany cross-border train left the Alstom Reichshoffen site on 12 May for the DB Systemtechnik test centre in Minden (Germany), where it will undergo its first tests for certification and approval. Mechanical tests will be conducted to check how the train behaves in curves. It will then go to the Velim test centre (Czech Republic), where it will undergo traction, braking, electro-magnetic and acoustic stress tests.
Testing on the German commercial network will start in spring 2022.
The Certification & Validation teams at Alstom's Reichshoffen site will work closely with their partner DB Systemtechnik throughout the entire process of certification testing of the new train, which will last two years. The approval and certification documentation will then be submitted to Certifer (France) and AEBT (Certifer's German subsidiary), which will ensure that the results comply with European railway norms (Locomotives & Passengers and PRM[1] 2014TSI[2]).
In October 2019, SNCF and the Grand Est region (France) ordered 30 Coradia Polyvalent cross-border trains with financial support from the German states of Saarland, Rhineland-Palatinate and Baden-Württemberg, as well as European ERDF[3] funds from the INTERREG V Upper Rhine Programme as part of an exemplary cross-border partnership. These 4-car trains, which are dual mode (electricity-diesel), dual voltage (25 kV / 15 kV) and are equipped with the bi-standard ERTMS[4] KVB[5] system supplemented by the PZB[6] STM[7] specific to the German network, will run at speeds of up to 160 km/h, serving the three states. The 30 Coradia Polyvalent cross-border trains will offer a first-class zone and a dedicated area for bicycles. They will incorporate the new LOC & PAS and PRM 2014 standards, notably offering more spacious toilets to facilitate travel for passengers with reduced mobility.
The first cross-border trains, designed and assembled at the Alstom Reichshoffen site, will be delivered at the beginning of 2024.
Thanks to its modular architecture, the Coradia Polyvalent product line can be adapted to the needs of each operator and to the different types of operation: suburban, regional, and inter-city.
It is available in three lengths (56, 72 or 110 metres) and offers optimal passenger comfort, whatever the length of the journey. It is an ecological and economical train thanks to its low energy consumption and its reduced maintenance costs. Coradia Polyvalent is the first French regional train that complies with all European standards, in particular for access for persons with reduced mobility.
To date, 400 Coradia Polyvalent trains have been ordered under the contract awarded to Alstom by SNCF in October 2009.
AlstomTM, CoradiaTM, CoradiaTM Polyvalent and CoradiaTM Liner are protected trademarks of the Alstom Group
[1] Persons with Reduced Mobility
[2] Technical Specifications for Interoperability
[3] European Regional Development Fund
[4] European Rail Traffic Management System
[5] French Speed Control System using Beacons
[6] Punktförmige Zugbeeinflussung (abbreviated to PZB) is a railway safety system used in Germany
[7] Specific Transmission Modules