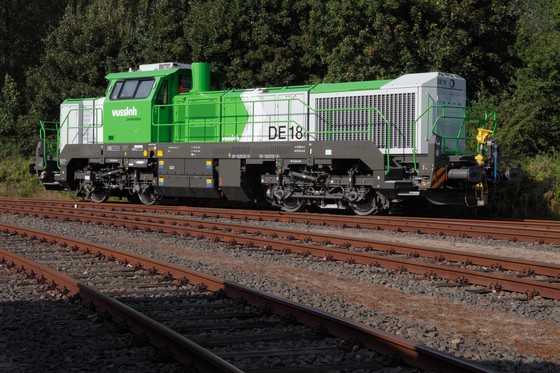 Alstom to equip 50 locomotives with Atlas on-board signalling solution for Vossloh Locomotives
Press releases and news
17 Jun 2021
Alstom to equip 50 locomotives with Atlas on-board signalling solution for Vossloh Locomotives
Copyright Vossloh Locomotives | T. Mischke
Significant milestone in the digitalisation of European freight transport
Freight locomotives will be equipped for use in Belgium, Germany, France and Luxembourg
17 June 2021 – Alstom has signed an agreement with Vossloh Locomotives to equip 50 of their DE 18 freight locomotives with Atlas, Alstom's latest on-board signalling solution. Once equipped with this ETCS-based train control, the locomotives will be deployed in Germany, France, Luxembourg, and Belgium starting in 2022. This breakthrough signalling contract, worth almost €20 million, includes an option to equip up to 30 additional locomotives and will improve dynamic cross border freight operation between the four countries.
"As a leading company in the field of digital mobility, we are looking forward to this ground-breaking order in the freight sector. Equipping such a large number of new freight locomotives with our signalling technology is a significant milestone and will enable multi-country operation," said Michael Konias, Head of Digital & Integrated Systems at Alstom for Germany, Austria and Switzerland.
"Alstom's latest onboard signalling technology solutions will secure the competitiveness of  our locomotives, which in particular guarantees more flexibility in the use of our products in international cross border freight traffic", stated Dr. Bernd Hoppe, Executive Director and General Manager of Vossloh Locomotives GmbH.
The Atlas ETCS Level 2 signalling solution deployed for Vossloh Locomotives is based on the latest Baseline 3 Release 2 standard. For Luxembourg lines, the locomotives will operate under ETCS Level 1 while the Contrôle de vitesse par balises software solution will be deployed on SNCF's French freight network. For their use in Belgium, the freight trains will be equipped with the additional Belgian Transmissie Baken-Locomotief or Transmission Balise-Locomotive (TBL1+) train control system. The three systems will then be integrated into Alstom's Tri-Standard solution (TriStd). To enable operation on the German rail network, Alstom's Atlas solution will be used to integrate and manage the German Punktförmige Zugbeeinflussung (PZB) system. The state-of-the-art solution will provide dynamic cross-border transition between the above-mentioned countries and can even be extended to operate in the Netherlands, an option which has also been agreed upon.
Vossloh Locomotives will manufacture the locomotives and install the Alstom TriStd system at its plant in Kiel, Germany. For the installation of the signalling equipment Alstom's Saint Ouen, Charleroi, Villeurbanne and Berlin locations will cooperate and conduct integration tests (T&C) of the TriStd system on all locomotives
Alstom™ and Atlas™ are protected trademarks of the Alstom Group