Luxemburg Railways chooses Alstom to equip 34 new Coradia trains with Automatic Train Operation system
Press releases and news
30 Jun 2021
Luxemburg Railways chooses Alstom to equip 34 new Coradia trains with Automatic Train Operation system
Press contact - Samuel Miller
A European first for regional trains: An innovative solution to increase network capacity and reduce energy consumption
ATO: increased punctuality and line capacity, reduced energy consumption and increased safety
First time in Europe for a regional train fleet to be equipped with ATO GoA2 over ETCS
High degree of innovation involved in optimising rail operations
30 June 2021 – Luxembourg's National Railways (CFL) have chosen Alstom to equip the 34 new Coradia regional trains, ordered in December 2018, with an Automatic Train Operation (ATO) system. The high-capacity double-deck trains will be equipped with the latest automation technology and will gradually enter commercial service on Luxembourg's national network, as well as in Belgium and France, at the end of 2021. It will be the first time in Europe that a regional train fleet is equipped with ATO at Grade of Automation level 2 (GoA2) in combination with ETCS.
ATO is a digital system that enables varying degrees of automation of trains and aids train drivers in performing some of their tasks. Four levels of automation have been defined. The higher the degree of automation (Grade of Automation or GoA), the greater the number of tasks the system can handle. GoA4 is the highest level of automation without a driver on board, as on some metro lines. Benefits of ATO include increasing the density of trains on the network, saving energy, improving punctuality and increasing the level of safety by limiting human error.
The Coradia Stream trains for CFL will be equipped with the ATO Level GoA2 automatic operation system. GoA2 involves fully automated starting, driving and stopping, with a driver who can intervene in the event of an emergency. It increases the capacity of the network by reducing intervals between trains and saves energy by regulating traction and braking forces. The ATO GoA2 equipment will be installed on CFL's trains at Alstom's Signalling Centre of Excellence in Charleroi, Belgium.
"In the future, automated trains will optimise regional rail operations, reduce energy consumption and increase passenger comfort," explains Bernard Belvaux, Managing Director of Alstom Benelux. "Automatic operation will make a decisive contribution to the development of a modern, attractive railway network. We are proud to work with CFL to offer this European first."
Alstom has a strong track record in fully automated, driverless metro operation. Alstom, whose ambition is to automate trains on mainline networks, is leading the European ATO project as part of Shift2Rail, the joint undertaking supported by the European Commission.  Alstom is also in charge of GoA3[1] tests on regional passenger trains in Germany and GoA4* tests on shunting locomotives in the Netherlands.  
[1] Level GoA3 refers to fully autonomous driving and opening and closing doors, but with accompanying staff who can intervene in an emergency. Level GoA4 refers to unmanned operation of the train, but with the possibility of remote control.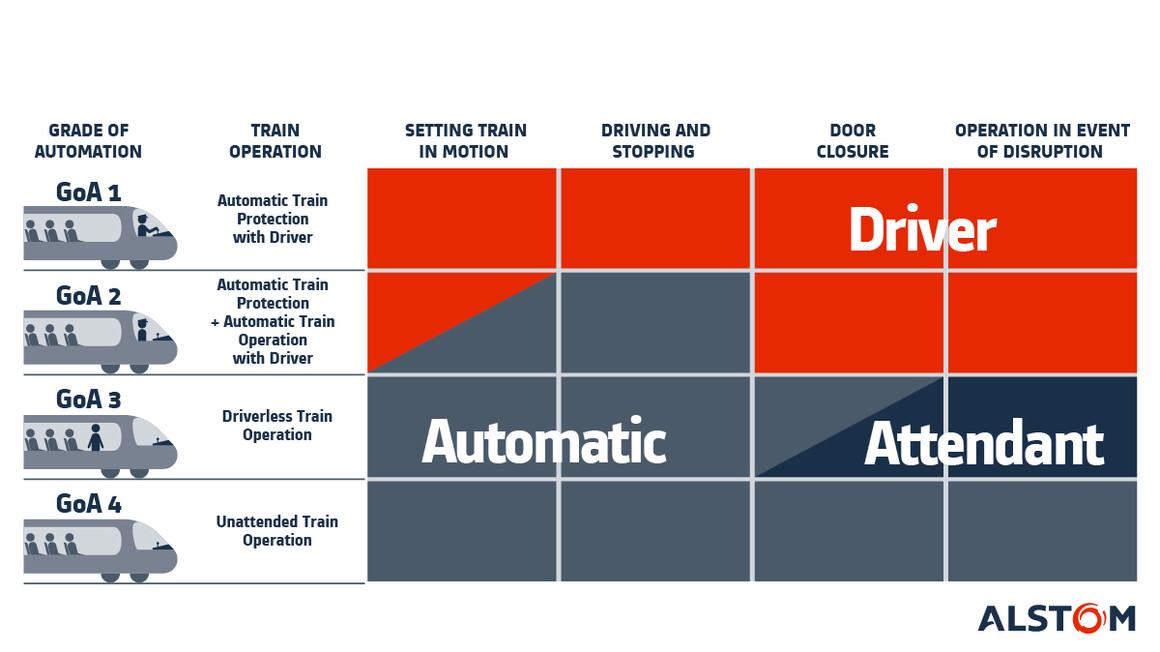 Grades of Automation