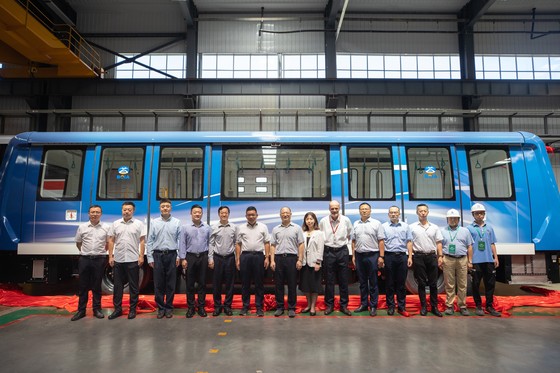 First automatic people mover (APM) delivered to Beijing Capital International Airport
Press releases and news
15 Jul 2021
First automatic people mover (APM) delivered to Beijing Capital International Airport
On 14 July, Alstom's Chinese Joint Venture CRRC Puzhen Bombardier Transportation Systems Limited (PBTS) delivered the first new automatic people mover (APM) train to BCIA (Beijing Capital International Airport). A delivery ceremony was held in the assembly area of its workshop, the customer toured the factory and was able to take the new APM train.
Beijing Capital International Airport, as China's "first gateway", is a large international airport with the most important geographical location, the largest scale, the most complete equipment and the busiest transportation and production in China. The number of flights taking off and landing and the passenger throughput of the airport are in the leading position in the industry worldwide. In 2008, Alstom delivered Beijing Olympic designated project–Beijing Capital International Airport APM to welcome the Olympic Games, and in November 2019, PBTS and BCIA signed the APM trains supply and upgrading contract. Facing with the challenge of COVID-19, the teams of both sides overcame the difficulties and worked together to push forward the project design, production and delivery, and completed the testing of train in early July 2021, which was ready for delivery.
Since established in 2014, PBTS has been committed to providing small and medium volume rubber wheel rail system solutions, and the core products of PBTS, monorail and APM, have achieved impressive results in the domestic and international markets. The rubber wheel APM system is one of the best solutions for passengers to move quickly and easily between airport terminals.