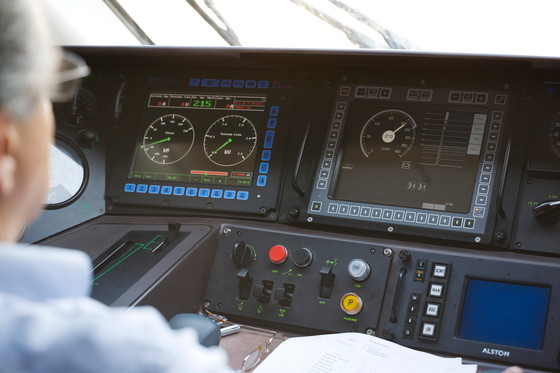 Alstom's latest generation ETCS technology to equip 120 locomotives in the SNCB fleet
Press releases and news
18 Oct 2022
Alstom's latest generation ETCS technology to equip 120 locomotives in the SNCB fleet
Latest-generation ETCS Level 2 technology improves operational performance and safety

The contract includes maintenance for 10 years
18 October 2022 - Alstom, global leader in sustainable and smart mobility, has won a contract for the design, delivery and maintenance of the latest-generation ETCS* level 2 signalling system (Baseline 3) for 120 HLE18 locomotives of SNCB in commercial service in Belgium, Luxembourg, France and Germany. The ETCS system will be supplemented by national functionalities to allow the trains to circulate in Belgium (TBL1+) in France (KVB). 
Originally created to harmonise cross-border rail traffic, ETCS Level 2 increases the speed, punctuality and capacity of trains in total safety. The most advanced version of Level 2 (Baseline 3) features optimised braking curves for maximised operational performance and increased passenger comfort. This version also enhances odometric performance, enabling drivers to select the appropriate speed in strict compliance with SIL4, the highest level of safety under EN 50129.
The Alstom Group's signalling facility in Charleroi is a global centre of excellence and will be responsible for the engineering of the various signalling systems and delivery of the on-board equipment. It will also provide maintenance for a 10-year period, including spare parts and repairs. The project launches in October 2022 and will run for 3 years. 
"Alstom is pleased to continue its collaboration with SNCB, and to support them in making the digitalisation of its rolling stock a reality," explains Bernard Belvaux, Managing Director of Alstom Benelux." Our signalling expertise is recognised worldwide, and we're proud to put it at the service of mobility and operators in Belgium."
The award of this contract confirms Alstom's leading position in the railway signalling system market. In Europe, over 60% of trains equipped with a European-made ETCS chose an Alstom system. In Belgium, Alstom equips a large part of the SNCB fleet and is actively contributing to the modernization of the Infrabel rail infrastructure. 
This latest-generation Level 2 train control and supervision system is already being successfully implemented by Alstom in Norway and on electric locomotives operated by Ceske Drahy in the Czech Republic. It's now being deployed on the high-speed trains of Deutsche Bahn throughout Germany, and on S-Bahn suburban trains by Alstom and competitors in the Stuttgart region, as well as on various projects in Spain, UK, India, and Australia.
ETCS: European Train Control System
Alstom™ is a registered trademark of Alstom Group.