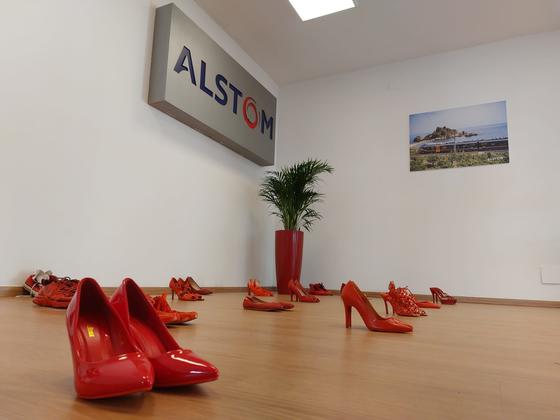 Alstom Italy hosts the ''Red Shoes'' of the artist Elina Chauvet to fight and prevent violence against women from November 21 to 25
Press releases and news
21 Nov 2022
Alstom Italy hosts the ''Red Shoes'' of the artist Elina Chauvet to fight and prevent violence against women from November 21 to 25
Elina Chauvet's famous installation will be replicated from November 21st simultaneously in 6 Alstom sites in Italy

On November 22, Alstom will hold a webinar with the presence of the artist and the non-profit association INTERSOS

Alstom Foundation will finance a project in Italy to promote the autonomy and job placement of women and girls who migrated to Italy and have suffered violence
21 November 2022 – Alstom, global leader in smart and sustainable mobility, is organising, for the International Day for the Elimination of Violence against Women, a series of initiatives to fight violence against women. These initiatives will take place from 21 to 25 of November within six different Alstom plants in Italy: Bari, Bologna, Lecco, Nola, Savigliano and Sesto San Giovanni.    
These six Alstom plants will be united in a unique, unprecedented, and deeply meaningful initiative. Each plant will replicate the famous installation 'Red Shoes' (Zapatos Rojos), a public art project dedicated to the female universe set up by Mexican artist Elina Chauvet and curated in Italy by artist Monica Pirone, which goal is to denounce the abuse of women and feminicide. A unique gesture, from North to South, to fight together all kinds of violence against women.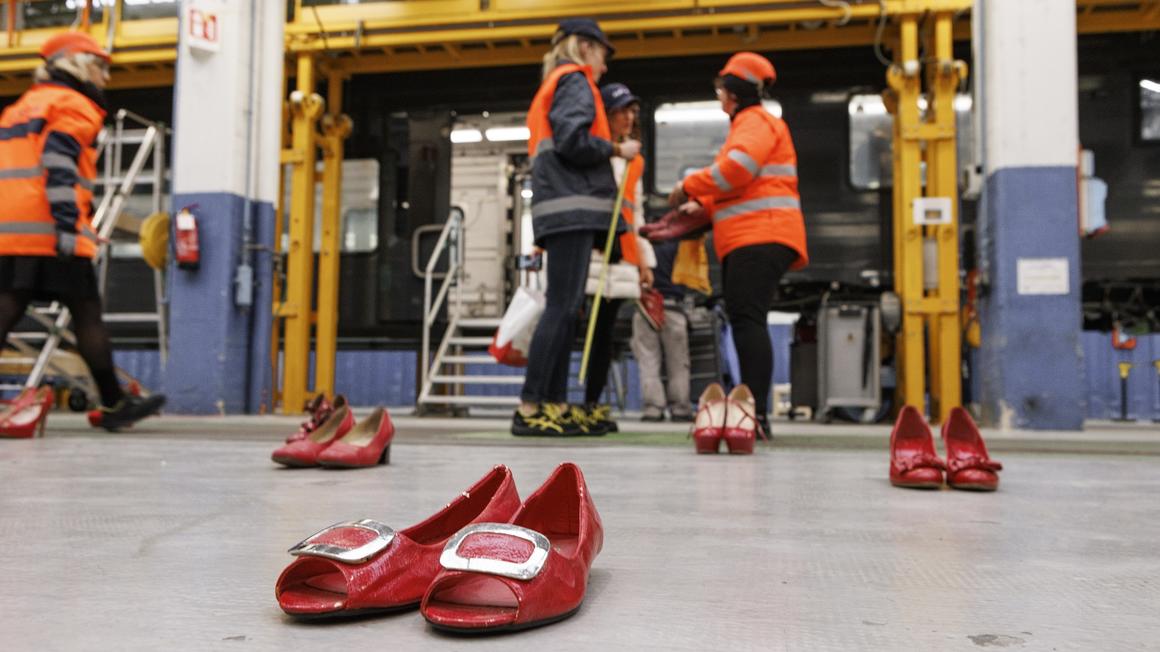 Watch the video for the Red Shoes initiative
Alstom will be the first company in the world to replicate this event and host within its production site.  This installation, made up of shoes of all types and genders, red or painted red, brought by employees to their plant to say stop gender violence, is full of meaning.
In order to  promote internally and externally the International Day for the Elimination of Violence against Women, held on November 25th, Alstom in Italy will  organize a webinar Tuesday 22nd of November from 2 p.m. Speakers will include Marco De Rosa, HR Director of Alstom Italia, Elina Chauvet, Mexican artist and creator of the "Red Shoes" installation, and the INTERSOS association, an independent humanitarian organisation and partner of the main European and international institutions and agencies.
Through the Alstom Foundation, Alstom confirms its commitment to support social responsibility projects for communities in the world. In fact, it was recently announced that among the 33 selected projects, that will receive funding in the next fiscal year, the project in Italy promoted by the INTERSOS Association, 'OMERO: Orientamento Mirato all'Empowerment e alla Ricerca Occupazionale' has been selected. This project aims to promote the autonomy and job placement of women and girls who migrated to Italy and have suffered violence. 
Established in 2007, the Alstom Foundation supports, and funds projects proposed by Alstom employees who team up with local NGO partners and nonprofit organizations to carry out initiatives aimed at improving living conditions in communities located near the Group's facilities and project sites around the world. The Foundation's projects focus on four axes: Mobility, Environmental Protection, Energy & Water, and Socio-Economic Development.