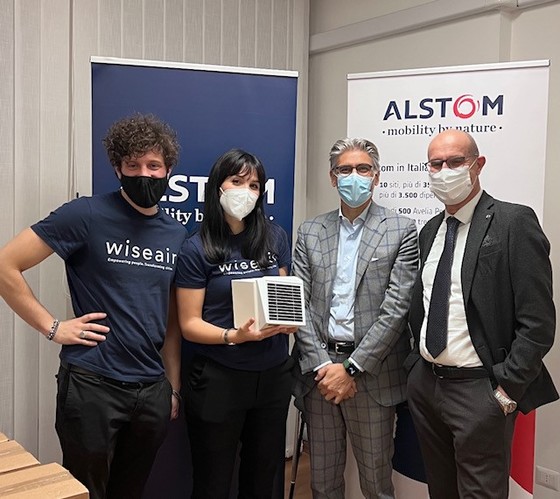 The operational phase of "Bari Aria Pulita", project carried out by Alstom and Wiseair, has begun
Press releases and news
18 Mar 2022
The operational phase of "Bari Aria Pulita", project carried out by Alstom and Wiseair, has begun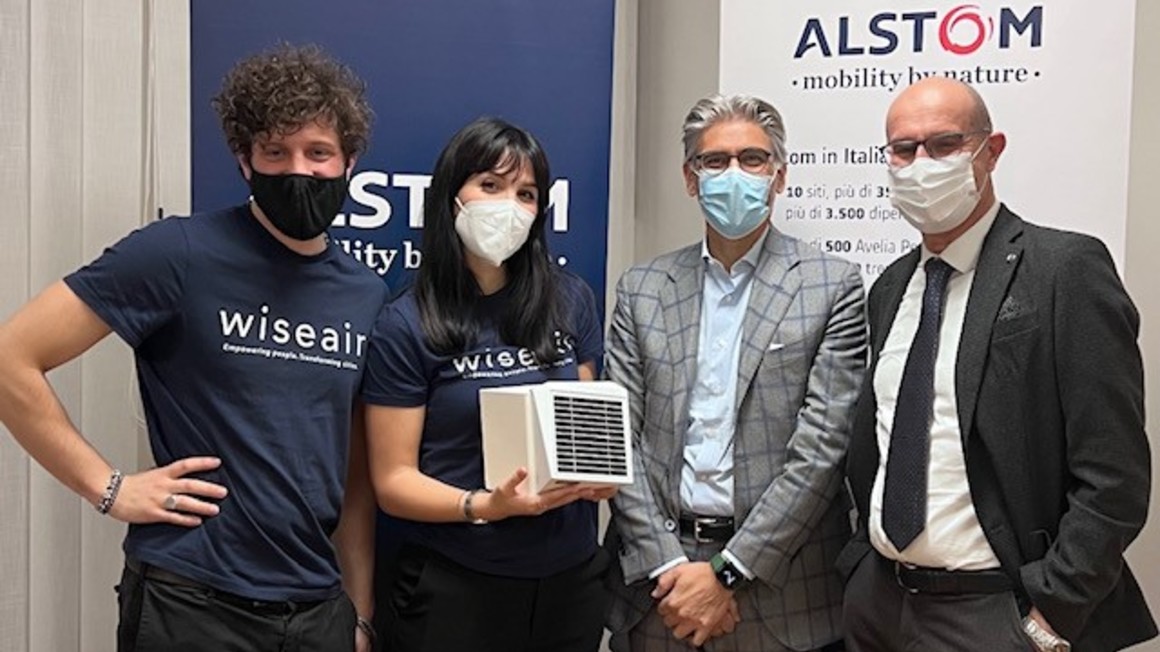 The project will allow the creation of urban air quality monitoring network 

10 devices delivered to measure air quality in Bari, thanks to Alstom's financial support
18 March 2022 – Alstom and Wiseair have officially launched the operational phase of the project "Bari Aria Pulita", which aims to raise awareness of the problem of pollution among citizens and the administration.
During a special ceremony hosted at the Alstom plant in Bari, with the presence of Saverio Renzi, Director of Business D&IS Alstom, Carlo Alberto Gaetaniello, Co-founder and COO Wiseair and Elisa Leone Salicona, Wiseair Communication Area Manager, 10 air monitoring devices were delivered to 10 citizens in Bari, who proved to reflect the values and spirit of the project through the completion of an adhesion survey for the initiative.
With the delivery of the ten "Arianna" devices, which monitor the concentration of particulate matter in the air, the project reaches its second phase. From the data provided by the Arianna vases placed on the Ambassadors' balconies, all citizens will be able to find out the air quality in their neighborhood through a dedicated mobile app, thus raising awareness to citizens who can drive change.  
The "Bari Aria Pulita" initiative is the result of a collaboration between Alstom and Wiseair, a start-up that provides administrations and citizens access to air quality data to support decision making and promoting a new attitude towards bringing clean air back into cities. Alstom, a global leader in smart and sustainable mobility, has focused on its relationship with local communities and on the transition towards more sustainable forms of mobility, two of the fundamental pillars of its long-term strategy.
"Bari Aria Pulita" is the first collaborative project between Alstom and Wiseair. Moreover, it is the fourth project of this kind for the start-up, after those successfully completed in Milan, Turin and Rome.
For more information on the project "Bari Aria Pulita" visit the website: www.wiseair.vision/bari