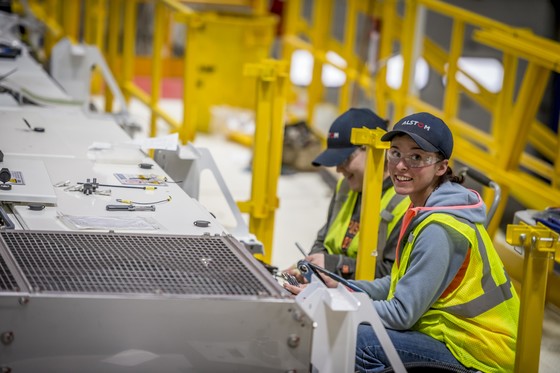 Services: A woman's world?
Alstom's Services business, like many engineering environments, is male-dominated, but the gender balance is slowly shifting, with the company determined to attract more women into the industry. What's it like on the ground? Three Alstom employees share their experiences: Adanna Jude, maintenance apprentice in the UK; Helke-Katrin Lange, service engineer in Germany; and Heidi Dresser, maintenance supervisor in the US.
How did you get into Services?
Adanna: I always say that the career chose me, because I was actually looking more along the lines of being a driver rather than being in maintenance. I went to an apprenticeship fair and one of the previous year's maintenance apprentices kept approaching me. And eventually I thought, OK, let me hear what she has to say. And she spoke to me about the company, about her journey and the apprenticeship. I thought 'It sounds good, let me give it a try'.
Helke-Katrin: My journey into Alstom started in 2012. I studied business engineering and we all needed to pass an internship. I thought I had applied for a site in Berlin but the interview took place in Hennigsdorf, and I realised the site in Berlin had closed five years ago! So, I started my internship in Hennigsdorf in engineering rolling stock. Then, we had a quite interesting project with Services and I really liked the way they worked there so I decided to switch over to services and to write my master's thesis in engineering services.
Heidi: My career started here with Bombardier as a project coordinator. It was for the installation of the automated people mover One Hybrid at the Sacramento International Airport in California. This brought forth my experience from when I worked in commercial construction and in home building. When the project was done, I moved into a site administrator position for operations and maintenance.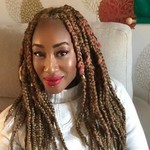 Did you experience any barriers in your Services career?
Adanna: When I started my apprenticeship, I was quite apprehensive because I have got a little girl – and having a very young child, plus working and studying – it seemed almost insurmountable. I think I'm the first mum on the shopfloor here and we work 11-hour shifts. So, my barrier was not being a woman but being a mum. I embarked on the journey and surprisingly I have managed to cope quite well, and I absolutely love it!
Helke-Katrin: As a female working student in engineering, it was very male-dominated. I felt I needed more know-how than a man to convince people that I'm very good at my job and that I understand the technical stuff. In meetings with 20 men, and me, it was like 'who's writing the minutes of the meeting or who's bringing the coffee?' And they always looked at me. I grew up with two older brothers so I'm I was used to standing up for myself and I had a perfect boss who supported me, so, it was OK.
Heidi: I was a site administrator for eight years and I applied for the site manager position. I was told that it's rare to jump right into that position. I felt I had to fight harder because I was a woman and I was up against all male candidates. I was not selected that time but that process did get me the job as a maintenance supervisor here in Denver.
Is it important to have and encourage other women into Services?
Adanna: The number of women interested in the rail industry is not equal to the number of men, so I don't think the focus should be on 'more women'. I think the agenda should be about if women are interested in taking up the role that they feel supported.  They should know that there is space for them, they are welcomed and that people will appreciate their contributions to the industry. Also, if people were more educated and understood that in the rail industry there are so many different roles that need to be filled, you would probably get more women coming forward.
Helke-Katrin: I think we bring a special atmosphere in male-dominated environments and I think the behaviour changes if a woman is in the room. I've never had yelling or shouting at meetings I attend, but I know a lot of meetings before I came were like this. It's good to have diversity and not just all men or all women. You get good, trusting and highly motivated teams.
Heidi: Women need to break societal expectations and beliefs about our leadership abilities, as well as the pervasive stereotypes, such as that of the caring mother or the office housekeeper. There is a constant need to have to prove ourselves to our male counterparts. Showing that women can lead the industry just as well, if not better, than a male is crucial in ending occupational segregation.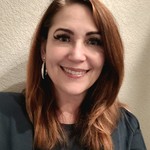 Advice for other women going into Services?
Adanna: I would say be open minded. I think one of the most important things is to embrace your differences. For example, for me, because the job is very physical, I know my limitations are to do with strength. I obviously don't have as much testosterone: I embrace that, I'm a woman. Be yourself, ask as many questions as possible. Don't be scared to challenge yourself and don't allow yourself to feel intimidated because you're in a male-dominated environment. And if you need help, ask for it.
Helke-Katrin: Use communication and networks and the existing training. You will learn a lot on your path if you are willing to. For me, it was important to stand up for things that matter to me. For example, before getting this job, I had a long conversation with my boss because I wanted to have some quality time with my child and, so, three days a week between 3:30pm and 7:30pm I don't want any meetings. I think it's important to talk about challenges and to basically say that you want a career.
Heidi: I would tell them to go for it. Don't let fear and intimidation stop you from making a difference. I feel that the more we choose this career, the more we become a force to be reckoned with. In the US, women broke barriers when joining the military. It wasn't easy, but they are excelling and advancing today. That can be the example.
What does IWD's '#BreaktheBias' mean to you?
Adanna: It's about making sure that the support is there, and I think it's particularly important to bear in mind motherhood. Even those women who don't have children now at some point probably will, and you have to factor in maternity leave while they're pregnant and how that's going to work. So, it's just being aware we can break the bias by being mindful of the roles that women play in society.
Helke-Katrin: I'm very glad to work in an organisation with such a strong focus on diversity and inclusion. Gender inclusion and the acceptance of differences should be used to strengthen customer relations and to build highly motivated and effective teams within our company. The key is also the role model function, and I show my people which behaviours won't be tolerated, but our company is doing a lot so that inclusion is accepted, and that matters.
Heidi: Breaking the bias means to me, diversity, inclusivity, feeling valued and celebrated. Alstom can break gender bias by giving women equal opportunities to their male counterparts, training their leadership teams to encourage and develop their women employees for advancement and by guaranteeing salary equality.