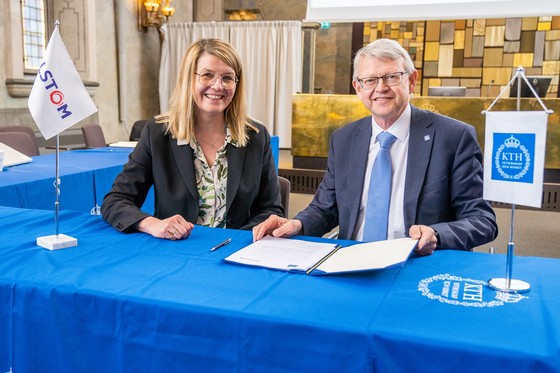 Alstom renews partnership agreement with KTH, Royal Institute of Technology in Stockholm
Press releases and news
18 May 2022
Alstom renews partnership agreement with KTH, Royal Institute of Technology in Stockholm
Alstom signs a strategic collaboration with KTH, Royal Institute of Technology

The agreement will strengthen the railway sector's role as an enabler of green transition in the long term 
18 May 2022 – Alstom, a global leader in smart and green mobility, has renewed its partnership agreement with KTH, Royal Institute of Technology in Stockholm. 
The agreement with KTH entails investments in joint research projects, competence development and collaborations in undergraduate and postgraduate education. Alstom actively contributes with both teacher competence and in the design of courses to reflect technological development and industry needs.
"As a leading player and Sweden's largest employer in green and smart mobility, we have valuable knowledge and experience that we want more people to take part in. This will be a way for Alstom to strengthen our ability in development and innovation and at the same time forge closer ties with tomorrow's talents," says Maria Signal Martebo, Managing Director of Alstom in Sweden.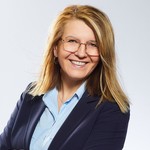 KTH currently has about 15 strategic partnerships with leading companies in Sweden. The partnerships provide good conditions for identifying societal challenges and jointly developing innovative solutions. The purpose of the partnerships is to increase the quality of KTH's research and education, through joint research projects and the use of research infrastructures/labs for mutual benefit. It also gives KTH's students an increased opportunity to work with industry-related projects and gain relevant working life connection in their education. 
 
Through the partnership between Alstom and KTH, education and research are linked closer to the development and innovation that take place in smart and green mobility, where Alstom is a global leader. It also strengthens Alstom's ability to meet the great recruitment needs of the company both in Sweden and globally.
15
strategic partnerships
>1,000
trains delivered in Sweden by Alstom
16
Alstom depots around Sweden where maintenance is performed
"We have a great need for recruitment in both the short and long term. Here, the collaboration with KTH will be another important tool to increase awareness of Alstom as an employer. We will also have the opportunity to highlight the rapid development taking place in the field of mobility already during the training and how important the railway is to achieve the climate goals," says Maria Signal Martebo.
Alstom is the largest player in the Swedish railway market with over 1,000 delivered trains. Alstom performs maintenance in 16 depots around Sweden and delivers the new ERTMS system to the Swedish Transport Administration. With the acquisition of Bombardier Transportation in January 2021, the company's Swedish operations have been multiplied. Two global research and industrialization centres for electric drive and signal systems in Västerås and Stockholm will be expanded during the year with a centre for the development of the brake systems for the future. 
Alstom™ is a protected trademark of the Alstom Group.